Guest Column: The Magic of a Musical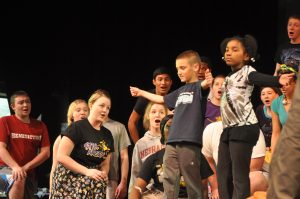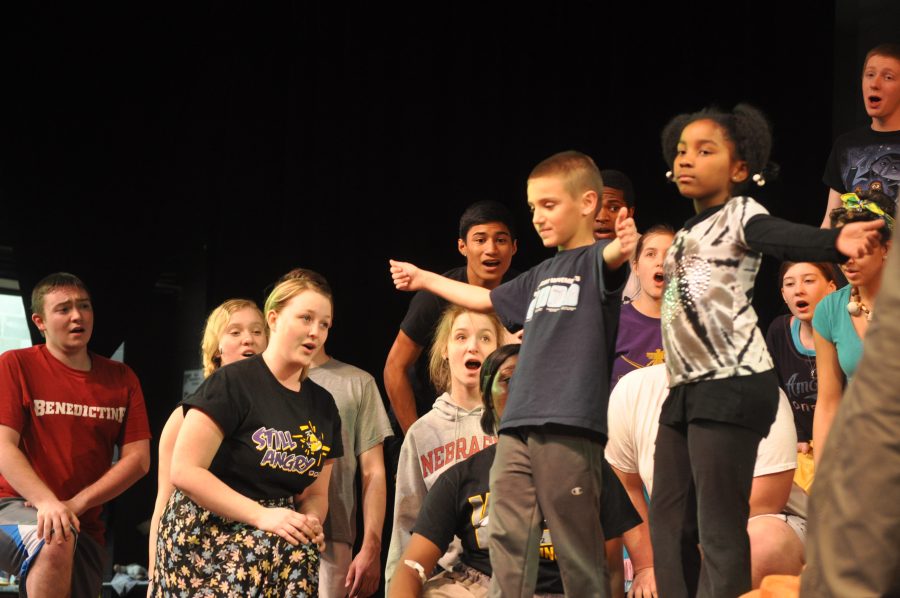 by Angie Daughtrey
It all began with an e-mail.
Would Shane, my 8 year old son, be interested in auditioning for the musical? Several weeks ago, as I sat at my computer I got as giddy and star-crossed as those crazy moms that you see on TLC. My son, on stage, of course I was all about that, but the trick would be to convince him.
I didn't even tell him we were going to the audition until the day of the audition when I picked him up after school. I told him Mrs. B, his music teacher, had told Ms. Lucca that he might like to be in a musical. Shane was having none of it, but in typical mother style I laid a guilt trip on him that we at least had to go and see since it was so kind of Mrs. B to suggest him. He stood behind me as I introduced him to Ms. Lucca and she made small talk with Shane and then took him on a tour of the auditorium.
By the time five minutes had passed, they returned and she had worked her magic on him. It was only the beginning of the magic I would witness as she, with her cast and crew, created the story on the small island.
The first week of rehearsal, not practice – careful or you will get a 5 minute explanation of the difference–I saw the frizzy haired, paint covered sorceress and her loyal muse lay the ground work. It was if I was watching Mickey Mouse in Fantasia order the mops over here and the buckets over there.
At one point I texted my friend and fellow teacher who has spent many musicals in the pit: "How does Lucca do this?"
The reply was that it was Lucca's organized chaos and there was always a vision for how it would come together in the end.
It reminded me of Sierpinski's gasket, a math chaos game, where out of disorder comes beautiful order in the form of windows of triangles stacked one on top of the other. One moment a scene included twenty plus chorus members trying to do domino-effect with their arms in a split second and then the window would open and Lucca and her storytelling guide would cut the chorus in half, bring the focus to the center and the scene would transport you to a young girl starting her journey to the other side of the island.
As teachers of different disciplines, we are often on different sides of an island, unsure about what happens on the other side. I am a math teacher and while a student in high school, I spent the majority of my extra-curricular time in sports, band and journalism. I have never had the opportunity to truly observe theatre. (I learned a theater is where you sit, but theatre is the experience.)
There is so much time and effort that goes into a production like "Once On This Island." There are notebooks filled with who stands where, who says what, when do the lights go on or off and the owners of the notebooks do it because they want to. There is no applause for the stage manager who filled in when the lead was sick or a standing ovation for the crazy girls who raked the silver streamers to make umbrellas rain. The chorus girl who always knows what measure to start does not get extra accolades. No extra pay for the college student choreographer, who, when twelve measures of dance were cut to eight, smiled and made it do more than work.
In the final week of rehearsals, the tech crew and pit descend upon the auditorium in one fell swoop and it is no longer about the actors and actresses. It is one short, focused, high strung week to insert all the embellishments that make it a musical.
When Shane and I arrive for call, which I learned is theatre speak for "what time to show up," on opening night, the chaos is in full swing. The cast members are buzzing around waiting to get into the green room which is serving as a forensics room until 5. There are vacuums running in the dressing room, death's head-piece is getting a last minute haircut, students dressed all in black are messing with smoke machines and the ushers are getting their last minute instructions on seating the auditorium. To an outsider it seems like chaos, but I have learned the magician will wave her wand to set the magic in motion and it will be wonderful.
And wonderful it is.
I feel so proud, not just of Shane, my shimmying frog, but for all cast, musicians and crew. It all comes together. The high note hit that hadn't been consistent, the dance move nailed when it had sometimes lacked energy, the guitar rift hot when there were days it was lukewarm. Each little worrisome piece coming together and making my heart fill with pride because I now understand the hard work and dedication it took to make the magic happen.