Bellevue West Book Club Introduces New Theme: A Mile In Their Shoes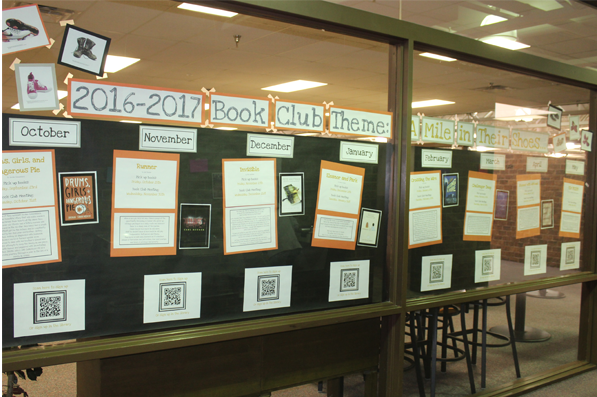 Each month of the school year, you travel on a different path with different backgrounds. Whether it's finding out that your brother was diagnosed with leukemia, or a 15 year-old boy crossing the Mexico border fending for himself, or covering up the bruises from your stepfather wondering if it's from pure hatred or from one too many sips.
Whatever the situation, you have the opportunity to get to know someone, and walk a mile in their shoes. You can do all this walking without actually getting up. Bellevue West's Library staff has introduced their book club with a new theme: A Mile In Their Shoes.
Bellevue West librarian Karissa Schroder has continued what Gladys Jones started in the 2015-16 school year. However, Schroder added a theme this year that emphasizes the main character's struggles in each book they will read. Having a theme helps pick which books to read and to add a deeper meaning to the book club.
"When you read a book you have a chance to feel so much more compassion for somebody," Schroder said. "That's why I decided on that theme, to give people a chance to get to know people that are different than them, through reading a book."
Senior Tori Walenz participated in book club last year. According to her, during the meetings they would discuss what they liked and what they did not.
"It was really fun last year because I was with a bunch of my friends, so it was really chilled and laid back," Walenz said.
Something different than most clubs is that students don't have to commit to the book club for the whole year. Students can sign up only for the book that sounds interesting to them. Books are handed out at the beginning of each month, allowing each member to have the whole month to read the book before the meeting at the end of them month.
"I think there's a lot of social benefits to get students in touch with each other, and sometimes I think it perks their interest in reading," Bellevue West librarian paraprofessional Lori Huntley said.
It's easy to sign up; just pull out your phone and scan the qr code that's located outside the library, and it will take off from there. Or you can go into the library and sign up in there.
Members meet at the end of the month during lunch. 1st and 2nd lunch meets from 12:10-1:00, and 3rd-4th lunch meets from 12:00-1:00.  
"Hopefully by coming to the discussions maybe you you read the book and you felt a certain way about it," Schroder said. "But then you come and hear another person's take on the book and maybe it just helps you see it in a different way than you thought before."