Juniors required to take ACT exam instead of NeSA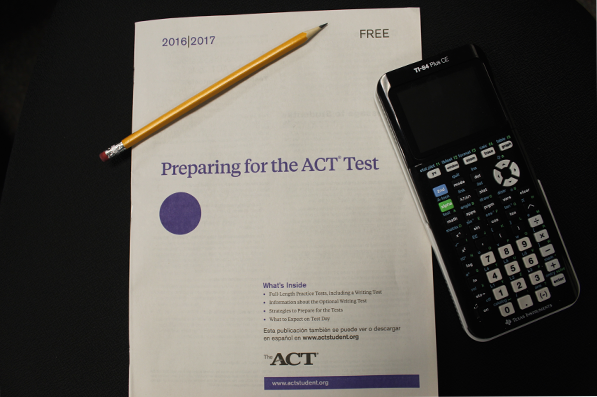 As opposed to previous years, all juniors in Nebraska will now be required to take the ACT on April 19, 2017. Before this change, juniors took the Nebraska State Accountability assessment, also known as the NeSA.
On Sept. 1, members of the Nebraska State Board of Education voted to enter a one-year contract with the ACT organization. This contract has the ability to be renewed in future years by the board.

"This was a decision made by the Nebraska Department of Education," Dr. Frances Pokorski said. "There were some glitches to the NeSA assessment that needed to be addressed and there were also concerns about the benefit of taking NeSA, so many have felt a college entrance exam would be more pertinent for students."
A new state law requires the board to give college entrance exams to all Nebraska students in place of accountability exams, like NeSA. The cost of the state-wide ACT will be about the same as NeSA, and will be covered by the district and state.
"For the mandatory ACT test for all juniors this spring, there is no cost to the student," Pokorski said. "The district has to pay a certain amount for assessments and this is no different than NeSA, but I believe there is a shared expense with the state."
Because the test will be free, it may be inconvenient for students who have already taken the exam and paid for it. Junior Asja Woodard, however, does not regret taking the ACT.
"In some ways I do [regret it] because if I had waited I wouldn't have had to pay for it, but I am also glad that I have already taken it so I can take the initiative to improve the score," Woodard said.
This test is something that students should be studying for during their classes. However, they should be preparing for it mostly outside of school.
"Honestly, a student should be doing prep themselves outside of school, or using the school resources to get ready for that ACT," English department chair Amy Smith said. "But certainly if we focus our content on the individual areas like math, science and english and on what type of questions are gonna be asked and the skills that they are testing, we're gonna do a lot better."
Smith emphasized that although some students put it off, the ACT is important for students' success.
"The ACT score has a real-world benefit for those students doing better on the ACT, and taking it seriously," Smith said.
Woodard agreed with Smith about the ACT's benefits.
"I think that it is a really good idea because everyone should take the ACT soon to know where they fall and what they need to improve upon to get the score they need for their college, or scholarships they want to apply for," Woodard said.
Students are both for and against the new exam policy. While juniors may be thankful for the free test, seniors who have already taken the test had to pay for it.
"I don't think it's fair because the NeSA did nothing for my future while the ACT is an opportunity for my future," senior Hope Bonar said. "NeSA was just for Nebraska where as the ACT is important everywhere."
Pokorski believes that implementing this test will be beneficial to students.
"I believe that the ACT will have more meaning for the students," Pokorski said. "It is a test that they can use as a required component of post-secondary education."
To prepare their students, teachers have implemented study approaches designed specifically for the ACT.
"We work on grammar and grammatical sentences that they have to fix, just like you have to do in the ACT," Smith said. "Most kids really struggle with that English section, so we work on that as well leading up to the tests, so kids can go up to it feeling a little more confident."