Get a job: benefits of working part-time in high school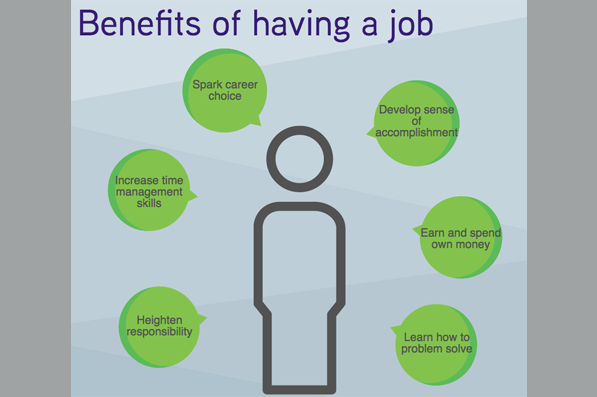 When I was younger, every time I went somewhere my first question was, "Mom, can I have twenty bucks?" or "Dad, can you pay for this?" I had a limited amount of money like any other kid.
Once I got to be 16 and 17, it became embarrassing for me to drain my parent's money like that. At 16, I got a job as a coach at my baton studio and have worked there since. Bringing in my own money provides a sense of accomplishment and I can spend it on what I want.
I have learned a lot since my bank account actually built up some cash. I have learned the value of money, how to save up, and gained more self-control. Having a job in high school is one of the most beneficial things a teenager can do with their free time and it can carry good habits into adulthood.
Having a part time job teaches more than how to do your laundry or put dishes away. It helps students learn how to be more responsible and be able manage time between all activities. An article from eCampusTours said, "as you grow older, your amount of responsibilities will only increase so learning how to multitask at an early age will better prepare you for the future."
According to the U.S. Bureau of Labor Statistics, just from April to July 2016, the number of employed 16-24 year olds increased from 1.9 million to 20.5 million. Last July, 53.2 percent of the same age group was employed.
These stats show the peak of youth employment being in July because many teenagers want to find jobs just for the summer. This is a good idea but finding a job you can hold throughout the year would be more beneficial, plus you'll make more money.
Getting a job you like could spark interest to your career choice. If someone works at a daycare, they can find they enjoy working with kids and base a college education and career off that.
According to an article from Concordia University, "taking a job in their field of interest allows a student to show enthusiasm and aptitude for that field of study."
Colleges also like to see if you had a job or not on your high school resume. They will think you are more mature and conscientious (even if you're not, it still looks good). If the job you have is related to your intended major, college admissions officers will see you are focused on your future and successes.
As a teenager working a part-time job, problems will arise that you have to deal with. Fixing situations makes students feel empowered and gain self accomplishment. If you work long and well enough, you may move up in position which also raises self esteem.
Like anything else, working in high school has its cons. Teenagers are already under a lot of pressure and add a job to the mix can add more stress. It might also take away time from being with your friends or decrease the amount of free time you have.
If you can work around the cons, having a job in high school is very beneficial and sets you up for a successful future.
Brooke Riley
Editor-in-Chief