Winter Guard wins World Championship title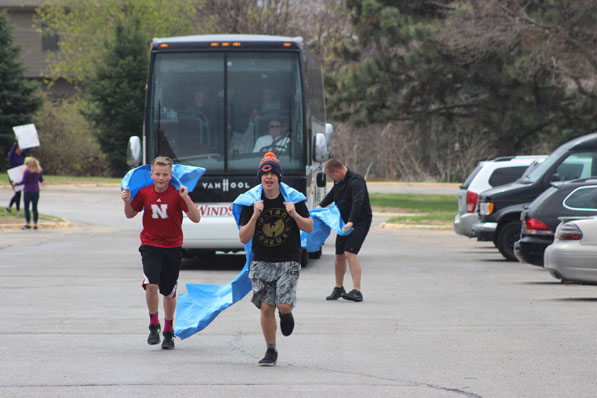 Bellevue West Winter Guard returned home April 10 after winning the World Championship at the Winter Guard International (WGI) competition.
No team in Nebraska has ever won the World Championship title.
Parents and others gathered at the school prior to noon to wait for the team to congratulate them with signs, balloons, and an immense amount of support.
Some parents organized a viewing party of the show Saturday afternoon at DJ's Dugout. Over 120 people showed up to show their support for the team.
Upon their return, the team was excited and showed as much enthusiasm as possible after being on a bus all night.
"It's kind of overwhelming because we're all exhausted because we've been on a bus for 14 hours, but it's nice," junior Sydney Stricklin said.
After all the time they had to think on their ride back, the girls were still confused how they ended up in first place.
"I didn't know we would ever make it this far," senior Ashley Nericksen said. "We only wanted to make finals, and that's top 24, and we never knew we would make first, so that's really overwhelming."
Some girls expressed how they are still in shock.
"[Winning] feels amazing," senior Alyssa Beyersdorf said. "It's still really shocking to everyone and I just can't believe it. It's insane."
After this championship, the girls are now in a different section for competition, but still aspire to just as well next year.
"Next year they're going to be moving up to Scholastic Open because we made top three, so hopefully they can do well in the new class so they don't have to drop back down to [Class] A any time soon," Nericksen said.
Winter guard coach Julie Hadley was just as confused as the girls when they won first, but she plans to prepare both the girls and herself for next year's competitions.
"Open Class has very different standards and very different qualifications so I have to go back and educate myself on that stuff to prepare them," Hadley said. "I'm confident we can do it. It's just that you can't just go in and win the next class up. It's a different ball game."
Patience Jurgens
Reporter