Students prepare "Seussical: The Musical"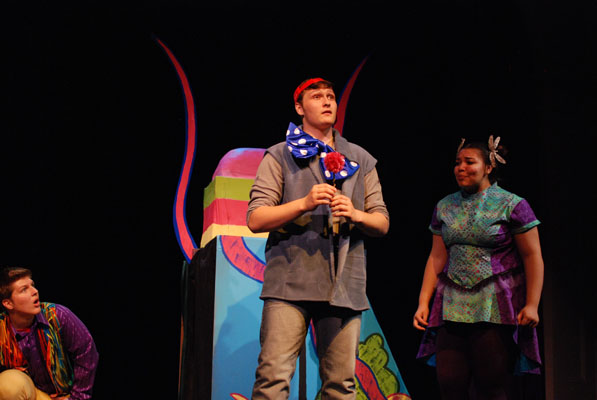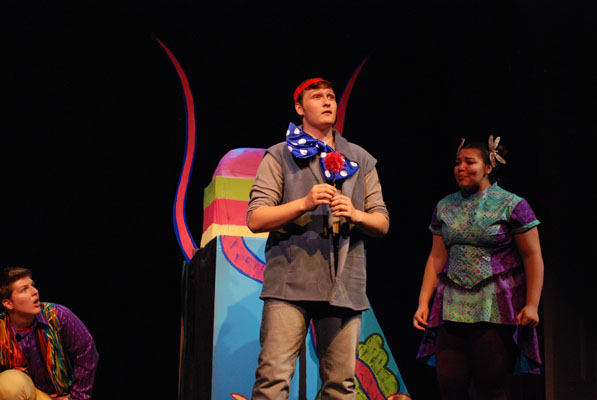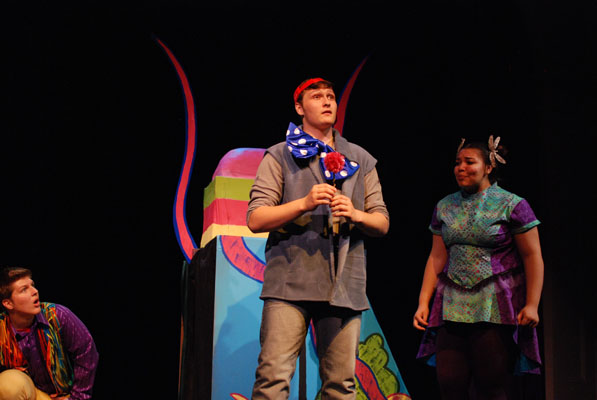 Behind every musical is hours of work and preparation, and "Seussical: The Musical" is no exception.
Director Marya Lucca-Thyberg held in auditions in December for the acting roles.  Those who successfully secured a role in the musical received their results the week of finals.
"I was at the mall with my sisters," senior Ian Mooney said. "They sent it through email, and I freaked out.  I was like a kid in a candy store, I was so happy."
Mooney was cast as Horton, one of the main characters in "Seussical."  Other main roles include junior Eleanor Carle as the Cat in the Hat, freshman Hannah Steadman as Jojo, and junior Lauren Johnson as Gertrude McFuzz.  Before the auditions even happened though, others had already been at work.
"We picked this [Seussical] out over the summer, and have been working on the prep work of it ever since the first day of school," music director A.J. Reimer said.
As the music director, Reimer assisted Lucca-Thyberg in selecting the spring musical.
"Number one, it has to be something that is exciting to us as directors," Reimer said.  "So both Ms. Lucca and I really enjoy this show.  We think it's a lot of fun, we think the music is great, and there's some really good moments.  The other thing you have to make sure of is that the cast you have fits the show. So, for instance, one of my favorite shows of all time is "1776."  It's a great show, but it's all men.  There's no women, and that wouldn't do very well in a high school setting, especially one that has as many talented females as we do."
As the master electrician, lighting designer, and a light board operator, senior Taelore Stearns began her work shortly after the directors selected the musical.
"Once she picks the musical and decides, that's when I can decide my light plot," Stearns said.  "I take a piece of paper and I get a ground plan of the stage, and I pick what kind of lighting instruments I want to use, what kind of gels–which are pieces of material that can change the colors–and I pick if I want to add any extra accessories."
Then the practices began after the actors joined in December.
"It's quite a large time commitment, because we're here every day after school," Carle said.  "If you're in choir, sometimes you work on it during choir.  Then you have to know your stuff before going to rehearsal, so you have to work on it at home as well."
One of the most important things that the actors have to accomplish is memorizing their lines, whether they are spoken or sung.
"We have a CD that has every one of our tracks on it, so we put the CD in and listen to our parts being played and sing along," Mooney said.  "I write my lines out. I write them down three times and then I repeat them to myself."
Not all methods work for all actors, so they need to figure out what works best for them.
"Personally, I walk around in circles and just say my lines over and over again, with different inflections on different words," Carle said.
At practice, cast members have the opportunity to see what they remember, along with learning new bits of the musical.
"Usually we'd start off by singing a song, like the opening song 'Oh The Things You Can Think,' and then run a few scenes, but now that it's down to the wire and we're going to perform next week, we're just running through the acts," Steadman said.
There's a lot that needs to get done during practice sessions, especially from a director's point of view.
"It's our goal to teach, so we try to make sure they know the notes, they know the words, they know the choreography, they know the blocking, they know what costumes to wear, they know what props to use, they know which side to enter and when they need to come in," Reimer said.  "It's like a giant dance that you have to practice again and again and again, and it's our job as directors to get it as close to perfect as we can get it."
During practices, Reimer directs the choir, soloists, and the orchestra with their music.  The actors and technicians work on the costumes and set, along with rehearsing their parts.  Lucca-Thyberg supervises all this and fixes details that need to change.
"If we're not getting something right, we do a cue-to-cue, with the lights and sound, " Stearns said.  "If they say a line and our cue is on the line, they just say that instead of going through all the lines.  We also rehearse on our own, like the spotlights look over their scripts to make sure their cues are written down."
Despite so much work, Carle manages to have fun with and enjoy the show.
"My favorite part is Doctor Dake, when Lauren Johnson playing Gertrude McFuzz gets a giant tail," Carle said.  "That scene is so weird.  It's like when you're driving in the car with your best friend and you're just being weird, only it's on stage in front of a bunch of people, so it's more weird and more fun."
According to some of the actors, being in the musicals is enjoyable, no matter what part in it you have.
"It's not about the role you get, it's about the experience and the bond you make with one another," Mooney said.
The Cat in the Hat narrates the story of Horton the Elephant as he works to protect the tiny Whos as well as an egg left in his care by Mayzie La Bird.  As Horton faces many obstacles, Gertrude McFuzz refuses to give up on him.
"It's all of Dr. Seuss's creations all coming into one big thing," Mooney said.  "It's very colorful, and it just a lot of fun, for the audience and everyone."
"Seussical: The Musical" will open March 1 at 7 p.m. in the auditorium. The show will run again March 2 at 3:45 p.m., and March 4-5 at 7 p.m. Tickets are $3 for students, $7 for adults, and can be purchased at The Bird House. Students with an activity card can receive a ticket for one show at no additional cost.