Unity Week brings students together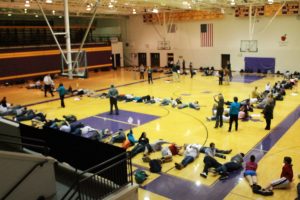 By Stephanie Henry
Back in October, Principal Kevin Rohlfs met with students who had been nominated to be a part of the student Leadership Summit. One project that the student leaders of Bellevue West came up with was unity week.
"[The idea] became a weekly discussion after that and took shape," Rohlfs said. "It was student driven."
Although many students didn't like the idea of unity week and the activities during GPS, a lot of students felt that unity week will have a positive effect on Bellevue West.
"I really like it. I actually met a lot of new people," junior Aggie Query said.
Freshman Zach Miller agreed.
"It's a good idea and it helps you get to know more people than you know," he said.
Some students, like senior Jett Baker, think that unity week is a good idea, but could use some improvements.
"It's a good idea but it should start earlier in the year and seniors shouldn't have to go," Baker said.
Students like freshman Rebekah Hayes saw unity week as a fun activity that got her out of GPS.
"I think it's cool. It brings everyone together and its a fun way to get out of GPS," she said.
Students from the Leadership Summit declared that the purpose of unity week was to "create a greater awareness and respect for the diversity of the Bellevue West Community."
Students who are not involved in the summit have their own ideas of what the purpose is. Miller, Hayes, Query, and Baker all expressed that the purpose is to meet new people outside of their typical groups.
"[The purpose is] to bring us together and realize there's other people we don't really talk to," Hayes said.
Query pointed out that the purpose is to unify as a school.
"[It] brings us together as a school," she said.
Miller believes that the purpose of unity week isn't just to meet new people but to get to know them too. Baker said it the simplest.
"To make more friends," he said.
The entire school was divided into five sections based off of the wing their GPS. Then the students were divided into smaller groups ranging from twelve to seventeen groups with approximately ten to fifteen students per group. The goal was for each group to be made up of those who don't know each other. Each group was led by a Leadership Summit Member and/or a West Welcomer. The students in these two organizations acted as judges and lead the players through the two team-building games.
"I think we'll meet a lot of new people and learn more about the school and be more proud of it," Hayes said.
Query agreed. "I think we'll bond more but there will be people who don't take it seriously," she said.
Rohlfs expressed the hope Leadership Summit holds for unity week.
"We hope that people will look at others they didn't know in a different light and have one more friend in the building," he said. "We want everyone to recognize that we're all different but can all get along."
Miller's idea of the purpose of unity week is very similar to the purpose that Leadership Summit decided on.
"I think people would be a lot nicer to people and help people more," he said.
The Leadership Summit hopes to be able to do unity week again in the future.
"Our committee is eager to see what students said. We'd like to make [unity week] a yearly experience in the fall," Rohlfs said.