BW to BU: Four senior soccer players sign to the Bruins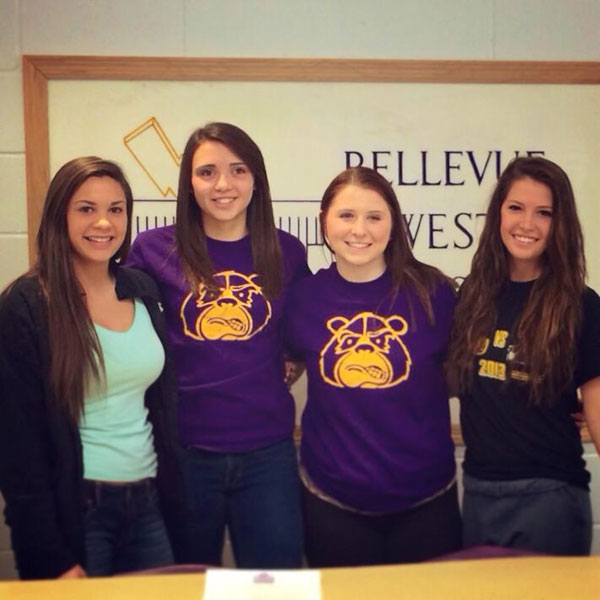 On Feb. 12, 2014 four girls sat in plastic chairs behind a flimsy fold out table with a cheap Bellevue West purple table cloth to set the mood. Seniors Kristin Hanson, Madi Lambert, Kylie Taylor and Kaleigh Young prepared to sign away the next four years of their lives to continue their dreams of playing soccer.
Signing to a university is special for any athlete but for these four, being able to sign to play college soccer was the peak of their thirteen-year soccer careers.
"I have trained them all at Bellevue West since they were freshmen. Kristin, Madi and Kaleigh all have been starting since they were freshmen. Kylie has been starting for me since she was a sophomore. She was our most improved player her sophomore year. Kylie and Madi have both been captains since their junior year," Bellevue West girls head coach Gauthier Scherlizin said.
At ten in the morning, one by one the girls inked their letters of intent and as the pens were set down the cheap purple Bellevue West table cloth resembled, in a new way, Bellevue University Bruins purple.
But far beyond on that flimsy table, the halls of Bellevue West, and the Thunderbird soccer field, the four girls have either played with or against each other for thirteen of their eighteen years of life. Young has played with Hanson for almost ten years, Taylor nearly eight years and Lambert since freshman year. Lambert and Taylor have played together for twelve years. Lambert also played against Young and Hanson for eight years.
"I especially love that I get to keep playing with Madi because of how long we've been in each other's lives and soccer careers, but overall I'm excited because the four of us have created a bond that really helps us all play together," senior captain Kylie Taylor said.
Before the day of commitment the girls discussed signing together. Knowing the other three were going, it made each one feel more confident about going to Bellevue University. Each of them have their own reason for going to BU.
"I didn't want to make it a huge process to come home on the weekends, my sister goes to Lincoln and says it's really convenient to come home when she needs to because it's so close and I liked that. I also think it's a good transition for me," Taylor said.
Once the day came, it was decided amongst the group heading to college together was the choice for them.
"It was easier committing knowing I'd be with some friends. Mostly I'm just not done playing soccer and Coach Nicolarsen is giving me the chance to keep playing," senior Kristin Hanson said.
Nicolarsen looks forward to them bringing that same passion and high level competitiveness to the program at Bellevue University.
"The decision about offering them was simple. They are all very good players and they will make us a better college team," Bellevue University Girls soccer coach Andy Nicolarsen said.
Nicolarsen is the Bellevue West boys' varsity coach and will begin his 11th season at the helm of the Bellevue University women's soccer program in the 2014 season.
Nicolarsen was drawn to the same thing in all of them.
"They love the game, they are good students, good teammates and great players," Nicolarsen said.
Nicolarsen spoke with West girls' head coach Gauthier Scherlizin and coach Rick Esparza from Phoenix Futbol Club (PFC) when he first saw the four play. Bellevue University recruits a lot of girls from the Omaha metro area that know or have played against each other.
"Being friends and having previous playing experience helps build team chemistry quickly," Nicolarsen said.
Bellevue University has a long history of recruiting Bellevue West soccer players going back a decade, including Marisol Ramos, Ana Dascalos, Meredith Shuman, Vanessa Ramos, Ashley Janca, Veronica Ramos, Jenna Pendley, Nicki Bernhardt and Aubi Batchelor.
"All have been very good players. Some have even been All-Americans for us. As a coach when there is talent in your own backyard you definitely want to recruit it," Nicolarsen said.
For four years, Gauthier, or "Goat," as they call him, Scherlizin has coached Hanson, Lambert, Taylor and Young.
"I look to him for more than just soccer related advice. He has helped me overcome many different situations that I couldn't have handled without him, I look up to him and rely on him to be there for all four of us like he always has been," Taylor said.
Nicolarsen believes the fact that the girls have a long standing relationship will help them progress as people and athletes.
"They are close friends and have played together for years. That kind of relationship will only build when they get to the next level," Nicolarsen said.
Young was offered her scholarship by Nicolarsen, which surprised her, due to her ACL injury last year that took her out for her junior season.
"I'm sure Andy saw me play and I was lucky enough for him to feel I could be a good for his team. I've been playing for fourteen years of my life so playing college soccer was always a dream of mine. Even after my ACL injury last year I never gave up that dream," Young said.
From being on the field with the girls, and going down by injury Young has had to rely on her friends-teammates since the moment it happened.
"Everyone has an important role on the team and we all learn to rely on each other and trust one another as we play," senior Madi Lambert said.
Though the four have the same interest in what college they are heading to, they all have their differences.
"Kristin brings energy to every game and practice. She is ultra competitive and the girls feed off of that," Scherlizen said.
And each difference plays an important role in the structure of the Thunderbirds' team.
"Kaleigh has a will to compete that makes her very special. She plays smart and aggressive. If the ball is in the air she will win it," Scherlizin said.
The girls work together well, and as seniors on the squad, they set a standard for the younger girls playing with them and on the bench.
"Madi, 'Lamb' as we call her, is a complete player and leads by example. She is a strong defender but can attack as well. She was an attacking winger that got moved her sophomore year to defense putting her team first and displaying great leadership," Scherlizin said.
Scherlizin looks to each of the four to chip in an important piece that fit together and makes one team. Without them he would have a hard time getting messages to players on the field in the middle of the action, which these four do.
"Kylie is the ultimate team player. She does all the little things that coaches notice but most casual fans won't. She covers for everyone and protects the defense. She allows everyone else to get the glory by being there to cover them with her great field vision. She has great passing skills to spread the field of play," Scherlizin said.
The four look forward to not only playing together for the rest of this season, with hopes of hosting their own district game, but they get to look forward to the next four years, which most athletes don't get to experience together.
"During college we plan to stay close. We'll be seeing each other a lot and I'm sure we'll all get even closer. After college I hope to stay in touch with the girls more than anything," senior Kaleigh Young said.
Bellevue West's fantastic four have not only achieved their goals of starting varsity young but they all have the opportunity to play at the next level. And like few others, they have the chance to do it together.
"For me personally I am extremely proud of them. Seeing these girls getting to play at the next level and fulfilling a dream of theirs is what makes all the time away from my family worth it. The fact that they are all going to be at BU is even more amazing because I will go from being just their coach to being their biggest fan and supporter next fall," Scherlizin said.
Nick Wilkinson
Sports Editor