Teens trampoline at Defy Gravity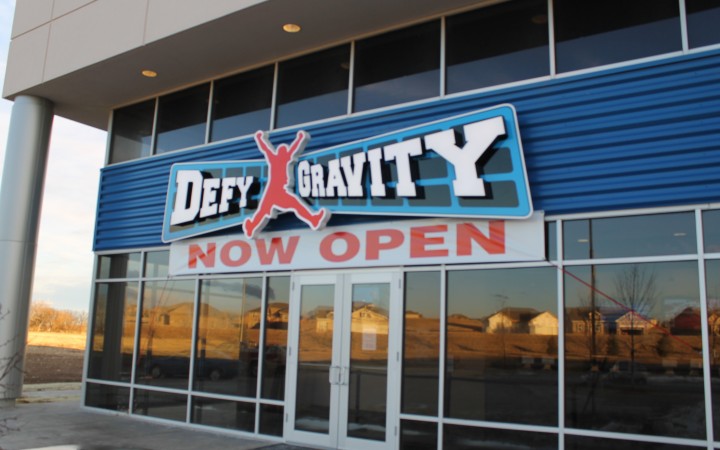 By Hailey Stolze.
I must admit, when I realized it cost $18 on Fridays for only two hours of jumping on a trampoline and one time through their laser maze game, I was skeptical about going to Defy Gravity.
However, after about 10 minutes of jumping, everyone there–and I–agreed it was worth every penny.
Before going, I heard a lot of my teenage friends talking about how awesome this place was, but I was still a little concerned that we'd be invading a children's playhouse.
I'm glad that Defy Gravity noticed that teenagers enjoy this kind of thing, and made from 10:00 PM to 12:00 PM a 14 and older only zone. This meant we didn't have to worry about trampling little kids. Nevertheless, some of the people there were quite questionably 14.
Before going, everyone under 18 must have a waiver filled out via the Internet by someone 19 or older, though it was just basic information that I could have filled out myself without even telling my parents. They also have computers there, where teenagers were registering themselves.
Once I filled out the form, nothing printed so I didn't really know if it went through. My friend's dad did it multiple times because he thought something went wrong. It was a very confusing process.
I don't understand the purpose of the form, though. If someone got hurt, it seems like the parent could just claim they never filled the form out, leaving Defy Gravity responsible for any damages.
Once I got there, there was a huge line. Luckily they had several people working so it moved pretty fast.
My friends behind me were the last two people to get in due to limited space on the trampoline, and everyone behind them had to go home. I was amazed this many people showed up.
I'm glad I got in because I'd be disappointed if I hadn't, though I do respect their restriction on the number of people. It's certainly safer, and the trampolines might break with too much weight.
When we paid, what my friend described as wrestling shoes. They were so light-weight they felt like socks.
To my surprise, they didn't have lockers to put our belongings. They had cubbies, but I really didn't want my $54 Toms and my purse containing an iPhone, iPod, HD camcorder and about $20 to be in clear site, practically begging for someone to steal.Thankfully, no one took anything.
As we walked into the trampoline area, all wearing sweatshirts, a guy working told us that we'd take them off in 10 minutes. We assured him we'd be fine. Sure enough, though, after almost exactly 10 minutes, red-faced from exhaustion, we all gave up and went to take off our sweatshirts.
There's not just one big trampoline, where everyone else's jumps would dictate how far you jumped (skinny people would go flying – bigger people would barley make it off the ground). Instead, they have mats in between each individual square of trampoline. They also have trampoline walls crating us in that we could bounce off of.
Defy Gravity is pure fun, despite the obvious danger. I was running up the trampoline wall while my friend was jumping in my direction, and I accidentally landed with my ribcage smothering his nose, resulting in him getting a bloody nose (heh, whoops).
The laser maze game was super entertaining. I would have liked another turn at it. They film the person going through so we could see on a TV what that person did while we stood in line.
I played on level easy, yet it was still challenging. My flexibility and extremely short build actually came in handy for once.
Luckily for my parched mouth, they have a place to rest, eat and drink. They had reasonably priced ice cream, which was valued by its weight. This tricked my friends and me into buying  twice the amount of ice cream than normal.
Although it was extremely tiring and somewhat costly, Defy Gravity is my new favorite place to go. I really do wish there was something like this when I was a child because it  was a wonderland of trampolines. All-in-all, Defy Gravity was insanely amusing and I'll be sure to bounce by there again within the near future.