Reconstruction continues to take a toll on Bellevue West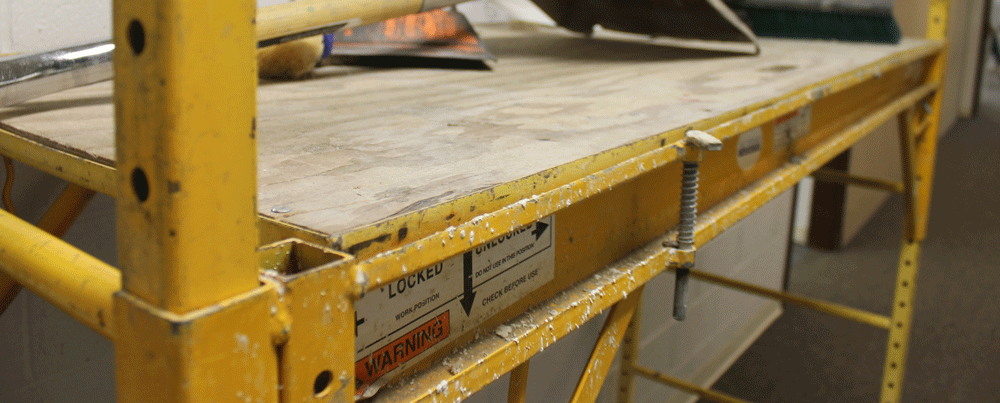 Throughout the 2012-2013 school year, students were challenged with more than merely dodging other students in the hallway. Students had to work around major construction conducted at Bellevue West throughout the school year. Classes moved around for weeks on end to allow construction workers time to install a new air conditioning system.
"It would get kind of frustrating because they would have construction all over the hallway, and they would have us move classrooms. It was just frustrating," senior Hannah Stoysich said.
Despite the construction that took place last year, more problems arose throughout the 2013-2014 school year.
"A six inch pipe broke and dumped a bunch of antifreeze into the art room," head custodian John Keenan said.
Construction hasn't been put to a stop yet, however, as the system continues to be altered.
"It hasn't totally benefitted us yet, because it hasn't been stabilized. In the end it will be beneficial because teachers will be able to control the air in their rooms," Bellevue West principal Kevin Rohlfs said.
The construction could give teachers an option as to what they want their room to feel like. Temperatures would range from 67 to 73 degrees in each room.
"There are eleven new air hammers that put out 55 degree air. Then the VAV [Variable Air Volume] box lets the teachers adjust the temperatures in their rooms,"John Keenan said.
Having a six degree temperature difference in each classroom may not seem extreme, but it will be a significant change for freezing students. Focusing on classes will be easier when there are no distractions.
"It's hard to learn because I'm more focused on the fact that I'm shivering when I'm supposed to be learning," senior Courtney Nunes said.
As soon as the construction is completed, the custodial staff will have full control of the system itself.
"Once they turn the system over to us and they have it right, we should have more control over it than we do right now," Keenan said.
Not only do students have to deal with learning in a chilly environment, teachers have to handle the cold temperatures as well. Teaching distracted students can make it difficult for progress in class to be made.
"I've noticed a lot of students make comments about being cold," AP biology teacher Christine Ritta said.
In order for this problem to be fixed, construction workers must find the source of the problem.
"If there is any further construction it will be nothing major, but they will continue to get this system synchronized," Rohlfs said.
Goals for last year have been postponed, as a solution to fixing the system is being investigated. A lack of water in the pipes is a theory as to why Bellevue West is so cold.
"The pipes that run through the whole system are supposed to be full of water. One of their theories right now is that they didn't get enough water into the piping system so the air isn't holding the heat like it should," Rohlfs said.
While this problem is being fixed, the construction workers are trying to put a stop to problems altogether.
"The goal was to stabilize the air in all of the classrooms. They haven't reached it yet, but everything is in place now. They just have to make it work," Rohlfs said.
Although the construction process has taken longer than expected, the custodians have been working closely with construction workers since last October.
"We just need patience right now. We are pushing this as hard as we can," Keenan said.
A six degree range may not seem like a significant change in temperature to students. However, once the system is stabilized there will be big changes. Students will no longer have to worry about their chattering teeth and blue lips once the system starts working.
Chloe Brim
Features Editor