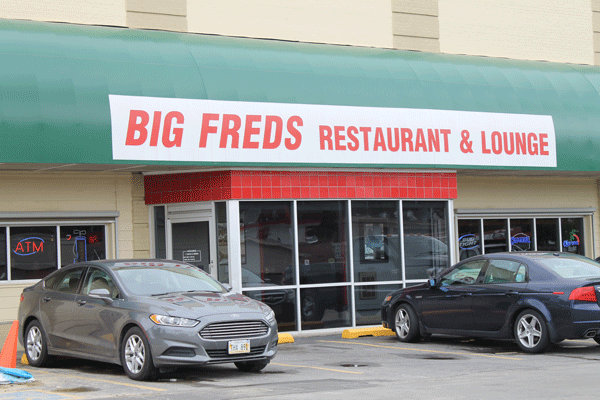 Earlier this month, USA Today unveiled their picks for the "51 Great Pizza Parlors," one for every state. A restaurant and lounge called Big Fred's Pizza was Nebraska's champion. Naturally, I held high expectations upon my entry to the establishment.
Big Fred's underdeveloped website boasts that the restaurant has the "best pizza in town." Not only is this claim a far cry from truth, the restaurant has some major flaws that make it one of my lower picks for Omaha's dining selection as a whole.
Walking into Big Fred's was disappointing in itself. I was greeted not by welcoming servers, but by dull-gray carpets, nearly bare walls and a few scattered TVs. The structure of the entry, with no real boundary between it and the dining area, made figuring out where to go for a table an awkward, confusing start to a low-quality dining experience.
When I was finally shown to my table, I was provided a menu with a wide variety of items ranging from their well-known pizza to fettucine alfredo.
The first item I ordered was their onion ring appetizer. The onion rings were slightly undercooked, leaving the batter a thick, liquid coat to abnormally crunchy onions. The insufficiency of the onion rings didn't seem to represent the restaurant as a whole at the moment, considering the onion rings weren't their flagship product. Thus, I ordered a pizza.
The pizza was the small with Mozzarella cheese and hamburger on top. It was difficult to get through, considering the dreadfully thick layer of cheese, meatball-sized clusters of hamburger on top and the cripplingly scant amount of pizza sauce. The thin crust, surprisingly, was perfect.
All throughout my Big Fred's experience, I was continually disappointed by the service I received. I received my items in a timely manner and was frequently assisted by my server, providing refills, napkins, and condiments, but she never smiled. Interaction with a great server includes a smile, eye contact, and an attempt to relate to the people you're serving. My server missed the mark in all of these areas. Being served is an uncomfortable experience at Big Fred's. For this reason, and the disappointment that accompanied the food, my visit was only 30 minutes.
Upon my exit of the restaurant, with pounds of uneaten food, I was given a warm farewell from a few smiling faces behind the counter. While this didn't make up for the insufficiency of the overall experience, it gave me the impression that my server wasn't representative of the entire restaurant.
Despite national hype, Big Fred's Pizza disappoints on many levels. The lackluster food, the listless service and the drab atmosphere of the restaurant don't even come close to the hype.
Mike Sullivan
Reporter