Katy Perry makes Century Link debut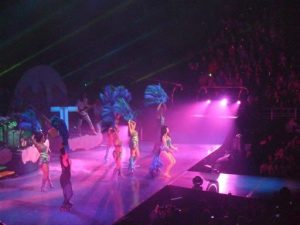 On the night of Sept. 16, a sea of blue wigs filled Omaha's Century Link Center as fans awaited the start of Katy Perry's "California Dreams" tour.
Before Perry took the stage, fans waited in anticipation through two opening acts – the first of which was R&B Soul singer Janelle Monae. Although she had a good voice, her performance included overly enthusiastic dancing, unnecessary hooded figures, and very odd lyrics. The pairing of Monae's music and Perry's was unusual.
The second opening act featured DJ Skeet Skeet, an Iowa native, who claimed to "represent the Midwest." He played versions of popular songs by artists such as Britney Spears and LMFAO, and also his own song, "I Like It Loud," to pump up the crowd.
After a long wait, the screens hanging high above the stage began to play a movie-like video, resulting in screams all around the auditorium. The video had a fairytale-feel, as Perry spoke of working in a butcher shop, and falling in love with a bakery boy.
She falls asleep, longing for a better life, and lands herself in a dream world full of pink clouds, lollipops, and a cartoon kitty. As the video fades out, Perry emerges, and begins to sing her opening song, "Teenage Dream."
One thing in particular I loved about Perry's show was the fact that she made her visit personal, and involved the audience in several different ways. She spoke about eating "the best steak she's ever had" at a nearby Nebraska restaurant, as well as giving all her friends Omaha Steaks gift cards for Christmas. She also promised a kiss to the first boy to take his shirt off, and fulfilled that promise to one lucky boy sitting in a far away row. She even pulled several girls on stage and took a picture with them.
Perry sang many songs from her newest album, "Teenage Dream." Songs like "Last Friday Night" and "E.T." have been played time and time again on the radio, however, lesser known songs such as "Circle The Drain" and "Hummingbird Heartbeat" received just as much applause.
Perry also sang songs from her first hit album, "One Of The Boys," which was released in 2008. This included her first real hit, "I Kissed A Girl," in which she changed the word "boyfriend" to "husband," showing off a ring her now husband, Russell Brand, gave her.
Perry also sang older songs such as "Ur So Gay," and "Waking Up in Vegas." Also from her older album was "Thinking Of You,"  where Perry was lifted on a pink cloud into the audience, and played guitar surprisingly well.
Throughout the entire performance, Perry emitted an upbeat, positive energy. While singing "Hot N' Cold," Perry had seven outfit changes – going along with her lyrics, "You change your mind like a girl changes clothes." She also danced in several choreographed routines, rather than just pacing back and forth as many performers tend to do.
One of the highlights on the performance for me, was Perry's singing of her song, "Firework." It seemed as if every person in the building was singing along. Near the end of the song, fireworks shot out on stage, lighting up the entire auditorium.
"Firework" is the song that won Perry her first VMA. She spoke about what an amazing feeling it was to win, and even brought out the award and let audience members touch it. She then placed it on the stage for everyone to see.

After Perry left the stage, the audience continued to scream and cheer for an encore. Of course she obliged, and sang "California Girls," with a huge grand finale that included spraying the audience with water, and showering us with glitter, Katy Perry took a bow and the curtain went down. I don't think I would be the only one to say I was sad the show was over.