Rohlfs exercises and travels outside of school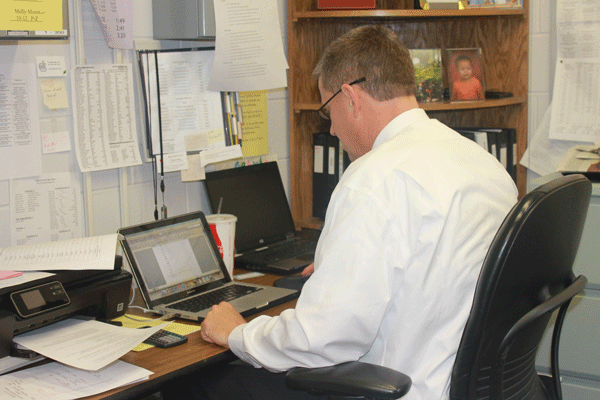 Principal Kevin Rohlfs may be the busiest man walking the Bellevue West halls. He has to keep up with his job as the principal, his two kids and his hobbies, while staying positive through it all.
His normal day starts when he wakes up at 3:00 a.m. and lasts until he goes to bed at 10:00 pm.
"Every morning at around 3:00 am I get in my daily exercise by either running, finishing out my routine with stretching and eating breakfast," Rohlfs said.
He normally arrives at the school to start his role as principal around 5:30 am and leaves the building at around 6:00 pm.
One can imagine the school day can being really stressful with the constant running around trying to manage students and staff, making phone calls to parents and meetings, so after school Rohlfs like to spend time with his two daughters Hazel, 7 and Maggie, 3.
During the week he spends time watching his girls participate in their activities: ice skating, dance and soccer.  Around the house they all play computer games together, dance and sing to videos on YouTube, or spend time outside at the zoo on a nice day. Rohlfs really enjoys doing things outside when possible.
His wife Amy Rohlfs, who is a counselor at Lewis and Clark Middle School, thinks he does a good job handling his stress.
"When Mr. Rohlfs gets home from work everyday he is generally happy. He does a great job of focusing on our family when he is home," Amy Rohlfs said.
When he's not with them he likes to go to the gym. Three days a week he attends 24-hour Fitness, and the other days he spends with his daughters.
"He works out daily which helps him manage any stress he might have," Amy Rohlfs said.
As a family they love to travel when they have time.
"Disney World is one of our favorite destinations.  We've also been to Jamaica, Turks & Caicos and St. Croix," Amy Rohlfs said.
She also noted that  Mr. Rohlfs prefers traveling to warm places because he hates the cold weather.
Rohlfs is an avid sand volleyball player, competing in an adult league. He enjoys reading books (generally fiction and thriller novels) over his lunch hour. He also dresses up as Santa Claus for the staff's family Christmas party.
In the summer Rohlfs rides his bike 20-30 miles to prepare for the Register's Annual Great Bicycle Ride Across Iowa [RAGBRAI] bike ride across Iowa which is a 7 day, 468 mile bike ride.
"I like to ride the whole thing, but the event is normally scheduled around the first day of school, so I usually ride as much as I can before I have to turn around and come home," Mr. Rohlfs said.
Besides being the schools principal, Rohlfs has other duties to take care of but manages to keep it all together throughout his busy day.
Holly Clauson
Reporter