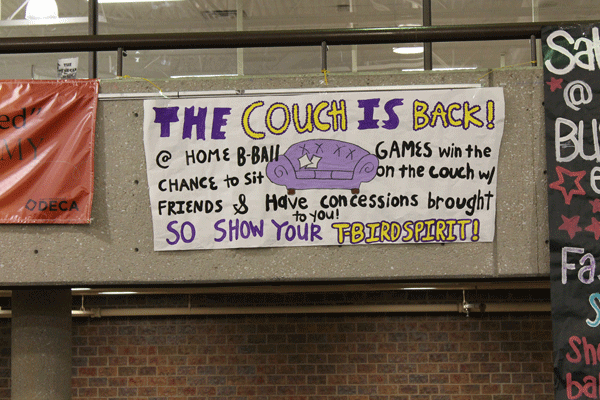 The spirit couch is returning.
At the leadership retreat in late October, based on the student's wishes, the school spirit committee was founded.
Principal Kevin Rohlfs said that one of the biggest issues that students said they wanted to try and tackle was boosting school spirit.
One of the first things the committee wanted to do was bring back the spirit couch, which has been used in previous years.
The couch is scheduled to return this week at the first home doubleheader. Who gets the couch is determined by how much school spirit they show.
"We're going to try and recognize students who are spirited during the school day," Rohlfs said. "Teachers can send down nominations and from those nominations, whoever gets mentioned the most in terms of school spirit, we'll announce at the end of the day that they and two of their friends get the spirit couch."
Free pizza and soft drinks will also be provided to the winner and their friends.
Junior Claudia Cortes, a member of the committee, said that the committee is working on getting students more involved in school functions and helping support each other.
Rohlfs plans on putting out a challenge to staff that will encourage clubs and sports teams to go, as a group, to one thing that they haven't gone to before.
"The goal is to get bigger groups of students to go and see new things," Rohlfs said.
Another event that the committee is working on are Olympic Games as well as trying to organize a spirit parade at the West-East basketball game.
"I really do want to keep meeting with this group because it's a student perspective of what they want to see in games and activities," Rohlfs said. "I can think what I want, but that isn't necessarily what the students want and I definitely want to get a student perspective."
Jason Wisenbaker
West Wind Entertainment Editor