Nebraska Supreme Court comes to Bellevue West
Because of the Bellevue West Mock Trial team's success in competition, the Nebraska State Supreme Court held arguments for a court case in the Bellevue West auditorium on Thursday, March 30. Students who attended this event were able to watch the proceedings as well as ask the court questions.
Tyler Jenkins, a member of the team, said that he thought it would be a positive experience for many.
"I feel like we got to help kids experience this, since a lot of other kids from different classes are going to be coming down," Jenkins said.
Among the students who took the opportunity to watch the proceedings was senior Emma Redler, who commented on what a unique experience it was.
"It's an environment you don't get to see every day, especially at this age," Redler said.
The first step to preparing the school for this event was locking down the area that the Supreme Court traveled through and putting the proper security in place. Officer Dylan Cass of the Bellevue Police Department described the security process for visitors and students wishing to watch the proceedings.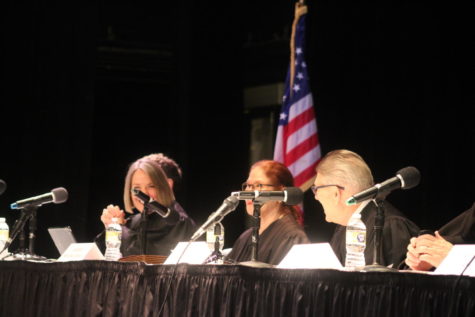 "In order to get into the building you have to remove all metal, whether it's a belt or something from your pocket," Officer Cass said. "Everybody gets screened before they enter the room. The Nebraska State Patrol will run an explosives detection dog through the area to make sure nothing has been planted or any crazy stuff like that."
The event began with an introductory explanation of how cases make it to the Nebraska Supreme Court, and then the oral arguments began. Junior Tamyia Bender said that paying particular attention to the arguments could help her write better speeches in forensics.
After arguments, the court answered questions from students. The questions ranged from technical details of the legal system to an inquiry about the justices' most interesting case.
Social studies teacher Tara Patomson said that in addition to all there was to learn about Nebraska's and The United States' legal systems, the event showed the people beneath their legal obligations.
"I appreciated that the lawyers, especially involved in the case we saw, had humanity," Patomson said. "You saw mistakes, and recovery from mistakes, and so I think that's a life lesson in itself."