Speak up and dribble: Peterson shines in classrooms and courts
To student-athletes, managing success in the classroom as well as on the court can prove to be a challenge, but to junior Dani Peterson, the title of student-athlete takes on a new meaning. 
Peterson's basketball career began eight years ago, through the YMCA.
"[Youth basketball] taught me how to handle difficult situations in my life," Peterson said. "The gym is my place where I don't have to worry about school or other things in life."
As a freshman, Peterson chose to pursue forensics alongside basketball.
"I thought that public speaking was an essential skill to have for later in life, however I had no idea it was going to be a competition with different events that you could go to nationals for." Peterson said.
Being involved in two busy school activities, scheduling for student-athletes can prove to be a challenge.
"Both coaches have made changes in their own schedules to help me be able to do two things I love." Peterson said. 
Forensics coach Becca Hier said she immediately began working with girls basketball head coach Dane Bacon to work out Peterson's schedule.
"The first thing I did was call Coach Bacon and say, 'Hey, we need to sit down and talk about this,'" Hier said. "'Let's look at our schedules, and see how we can make this happen,' and with that type of planning, you can absolutely be involved in multiple programs.'"
Hier said that this year, Peterson began communicating with both Hier and Bacon to schedule on her own. 
"Bacon and I started out the first couple of years with Dani, where he and I would communicate a lot," Hier said. "Now as a junior, she has taken a lot of that on to take the responsibility of 'Hey, these are the things that I want to do in both programs. Here's how we can make that work.'" 
Peterson said that she's now developed her own system.
"The scheduling process starts at the beginning of the year, so I pull up both schedules and I write down all the tournaments that do not fall on the same day as a basketball game and this gives me a map of the year," Peterson said. 
So far this season, Peterson has averaged 10.5 points per game and 6.9 rebounds per game, according to MaxPreps.com. Though, to Peterson, the game is much simpler than stats. 
"There is just one thing you need to do and that is play," Peterson said. "Life becomes simple; you just go play."
Bacon said that Peterson's work ethic is different from anything he's seen at the high school level before.  
"She's definitely the hardest working kid that I've been around in my three years as a head coach," Bacon said. "It's unlike anything I've ever seen."
Bacon noted that Peterson's ability to excel both in and out of the classroom is unmatched.
"She's a kid that spends more time than about anybody trying to improve," Bacon said. "For her to juggle both of those things is impressive, and she does it in stride."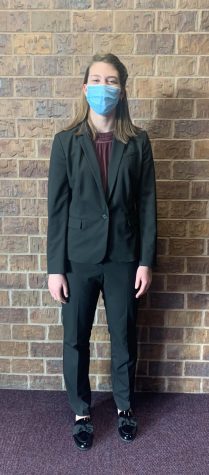 In forensics, Hier added that Peterson is always working hard to get better.
"She's constantly making changes, and she's a very task oriented kid," Hier said. 
This year in forensics, a runner-up win at Millard North on Jan. 9 earned Peterson a bid to NIETOC nationals in May. 
"It was like I finally proved to myself that I am more than just a basketball player and that I can be successful at both," Peterson said. 
Peterson said that 2 years of progress on the court and in the classroom led her to success this year. 
"I was not very good at speech my first two years and basketball was not what I expected either," Peterson said. "This year was like a breakthrough; All my hard work that I put into both was finally paying off."