Football preview: Q & A with Coach Huffman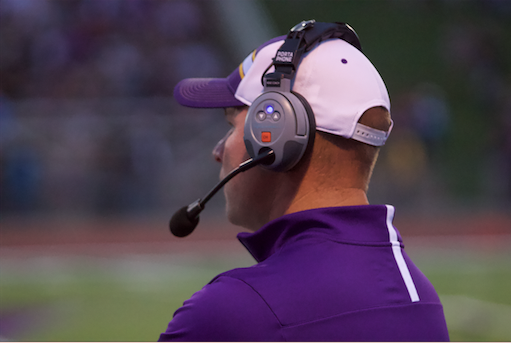 Q: This biggest question surrounding this team is at quarterback, as you lose the QB in Joe Dolincheck who started on Bellevue West's first ever championship team. What should we expect at quarterback this year?
A: Jacob Coldanghise is our guy.  He has two years experience running the offense at the JV level and has played multiple snaps in varsity games in the last two years.  Including a huge third down conversion in the 2016 semi-finals against Prep. He is a slightly more athletic version of Joe Dolincheck and when his decision making is on point and he is reading his progressions properly he is dynamic.  It will important for him to be able to weather the ups and downs of a Friday night, not get too high when the going is good, and not too down when things are rough.
Q: Besides the obvious guys who received Division I offers (Betts and Ducker), who are some of your players to keep an eye on this year?
A: Our defense has had an extraordinary summer and fall camp.  Logan Bird and Jalen Powell are big time players and among the best at their position in the state.  I would put our defensive line of Powell, Matt Thomson, Toy Miller, David Shannon, and Tyler Chaney up against anyone.  The defensive backfield has been very stingy during fall camp and much improved over last season. Offensively we are loaded at the skill positions.  Shane Smith is electric and Evan Kieser and Nate Sullivan are as good as it gets in high school football in Nebraska. The three returning starters in the offense line: TJ Griffin, Thomas Ault, and Kaden Lind are looking for their spot on the Mount Rushmore of offensive lineman we have had here at West.
Q: Are there any specific games you have circled on your schedule this year as a special or more important game, or do you go into all the games with a similar mindset?
A: There are, anyone that says differently is full of baloney.  Our opener against Lincoln High will be a huge task. There will be elite skill kids all over the field that night.  Anytime we play Papio South it is a big deal with them basically being our next door neighbors. Elkhorn South has been a dominant force in Class B so I am interested to see how they are and the fact my nephew plays there makes that one intriguing personally.  Week eight against North will tell the tale of who has a legitimate shot at a state title.
Q: Last year, the expectation was that the running game would significantly decrease after losing Jaylin Bradley. Then Jeyvon Ducker had a monster season as only a sophomore. Did you see this coming? What are the expectations for Ducker this year?
A: The running game was a mild surprise in 2017.  We knew Ducker had a ton of ability but with three tenth grade lineman starting we weren't exactly sure how it would all stack up.  We had tremendous leadership from seniors AJ Forbes and Ty Reynolds which sped up their development. Our receivers ability also opened up some running lanes because of our deep ball capabilities.
Q: You're on an incredible coaching run, going 33-3 in the past three seasons. Do you feel any pressure as a coach because of the success you've had these past few seasons?
A: Thank you for the kind words.  We have an amazing football coaching staff and very hard working players here at West.  When you combine those two things greatness can happen. The self-inflicted pressure I place on myself is greater than any external force could ever be.  The expectation levels we place on our program will never change. I have found over the years most people will raise to the level of the expectation and achieve at a higher level then ever thought possible.  Those that are not willing to do that will weed themselves out.
Q: The defense is considered an unknown entity after the roller-coaster season it had last year. How do they find stability this year?
A: I think the defense is going to be a major strength this season.  They are extremely motivated and run very well as a group. As mentioned earlier, our defensive line is outstanding and has some good depth.  A couple of sophomores with tremendous speed and toughness have emerged. Both Ryan Rogers (LB) and Jack McDonnell (WS) have added an edge. Seniors Carson King and Caeden Hays have really improved in both ability and knowledge.  Cruz Jurado has won a cornerback position and brings elite quickness to a position which should help in our pass defense. Gannon Spahn is a technician and sophomore Keagan Johnson has added athleticism to the backfield which could lead to an increase in turnovers.
Q: Since Scott Frost has returned to Nebraska, it's clear that there is a much bigger emphasis on pipeline recruiting here in the metro and all around the state. Does Scott Frost's in-state approach to recruiting affect the way you coach?
Not at all, we train our kids to be extremely successful high school football players.  Those that are looking to play at the next level we assist as much as we possibly can. I am one of the biggest Husker fans there is but at the end of the day I want our guys to go where they fit the best and can get the most money towards their schooling.
Q: You've dealt with serious talent turnover on the team before, and you've managed to put together incredibly successful seasons when faced with that. With that said, this team has retained a lot of it's serious talent. Can this Bellevue West football team win the state championship?
A: There is no question in our mind we are one of a handful of teams that can hoist the championship trophy in Memorial Stadium.  When it comes to that time we will get what we earn. We have to play great run defense and be opportunistic created turnovers and getting other teams off the field on third down.  Offensively we need to take care of the football and continue to push our effort to the echo of the whistle. We have placed more emphasis on our special teams this fall camp and I look forward to gaining a decisive advantage in that third of the game.  2018 should play out to be a great season and am extremely excited to see how the next thirteen weeks plays out!