Auditioning for school musical proves that stepping out of your comfort zone can be rewarding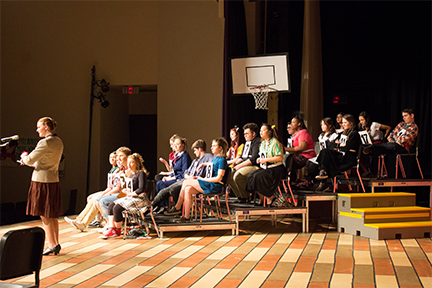 I'm not a singer, or an actor. Or a dancer for that matter. So when I considered trying out for the school musical, "The 25th Annual Putnam County Spelling Bee," most people, including myself, didn't feel that my skills correlated to the task.
I have no experience in the three categories I named, at least nothing more than singing in the shower or acting sick so I could stay home from school. But still something intrigued me about the possibility of performing in the musical. Talking in school is a strong suit, and performing to me is nerve wracking yet exhilarating.
I've been told I am a good singer (thanks, Mom) and acting always interested me. So I gave it a shot.
I went in incredibly nervous, surrounded by 70 other theater kids who knew what they were doing. But I gave it all I had in tryouts. I felt awkward and red-faced the whole time, as everyone else seemed so much more natural at these skills than me. I took this as a personal chance to prove myself to myself. With this being something I had no experience in, yet really, really wanted to do, making the musical even as an ensemble member would've had me starstruck.
So when the cast list came out, and my name was on it, I was as surprised as anyone. Right next to my name was my role: "Carl Grubenierre." I immediately went to Google to find exactly what my role was.  "One of SchwartzandGrubenierre's father's"; I was going to be a gay dad. And I was determined to be the best gosh darn gay dad the musical has ever seen.
Now, four months after I tried out, I look back on that decision as one of the best of my high school journey thus far.
At first I saw the constant everyday practice as a pest, not having a chance to rest after a full day of school.
At first, I did feel out of place being surrounded by all of these talented theater and choir folks, but a few weeks in I really started to be embraced by the entire cast and crew.
At first, I grew aggravated by my ability to not successfully do some of the dances or singing that others in the class could do easily, but with the work I put in I was able to reach the performance level that I wanted.
And soon after, being with that goofy group of people and playing our goofy characters became one of the things I really began looking forward to in my day.
Even though the curtain has closed for "The 25th Annual Putnam County Spelling Bee," the experience was one of the most rewarding things I've done in recent memory.
With the musical, I learned that the only way to break out of that comfort zone is to embrace the task with open arms.