Developing neighborhood pantries hope to eliminate food insecurity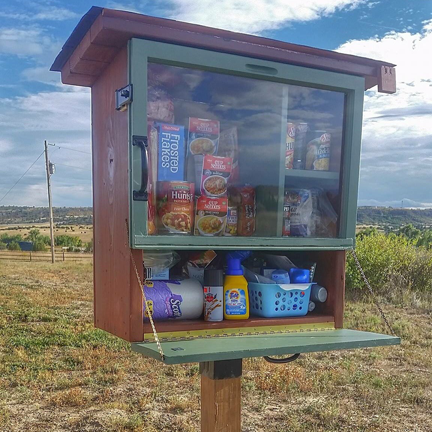 Some Facebook videos are funny, some are educational and some are inspiring like one Patricia Woida stumbled upon. This video was about a small stand in a town filled with food for citizens to take if needed. It's called a neighborhood pantry.
"I've always just been in that gesture where you pay it forward." Woida said. "For me being in Bellevue, it's such a giving community so when I saw it on Facebook on my personal feed I was like, 'you know I really want to do that for Bellevue' because Bellevue is just so giving in general and I want to be able to give back."
Woida shared the video she found about neighborhood pantries on the Bellevue 411 Facebook page where she received feedback from members of the community who wanted to out.
From there, a small committee formed of about four or five women. They have been messaging on Facebook and prepare to have meetings once their idea is further advanced.
"We are also scouting out neighborhoods and trying to get input from other people on Facebook as to what they need and stuff like that," Woida said.
The idea of this pantry will be an enclosed case that is safe and will keep the food fresh. Woida's main concern is keeping the bugs and animals out it and protecting it from Nebraska's weather.  
"I have been reaching out to friends trying to find someone that can actually build a sturdy structure," Lisa Wilson said. "So that was our first step in getting this done.
The pantry is all donation based and is supposed to be supplied by anyone in the community is willing to keep it stocked.
As a way to fill it, Woida said she could talk to a few restaurant owners and ask if they had leftover food they won't use and would otherwise throw away.
"I know a lot of Bellevue restaurant owners love to give back as well so I thought if maybe down the road this is successful then we could reach out to them," Woida said.
Since this only the beginning of their plans, the committee isn't sure about rules or regulations they have to abide by but Woida said they will have to look into it closer to their opening date.
"It takes away any shame associated with someone who might have trouble accepting help, it's for anyone that needs it." Wilson said. "Plus it's easy for someone to pick up a couple extra items at the store and drop them off. It's also a great way to teach our young about giving by letting them fill the shelves."
The team is hoping to have at least one pantry up and running in a month but wants several in the future.
"I'm proud to live here," Woida said. "Bellevue is a great place to call home and I'm really happy to be able to give back."