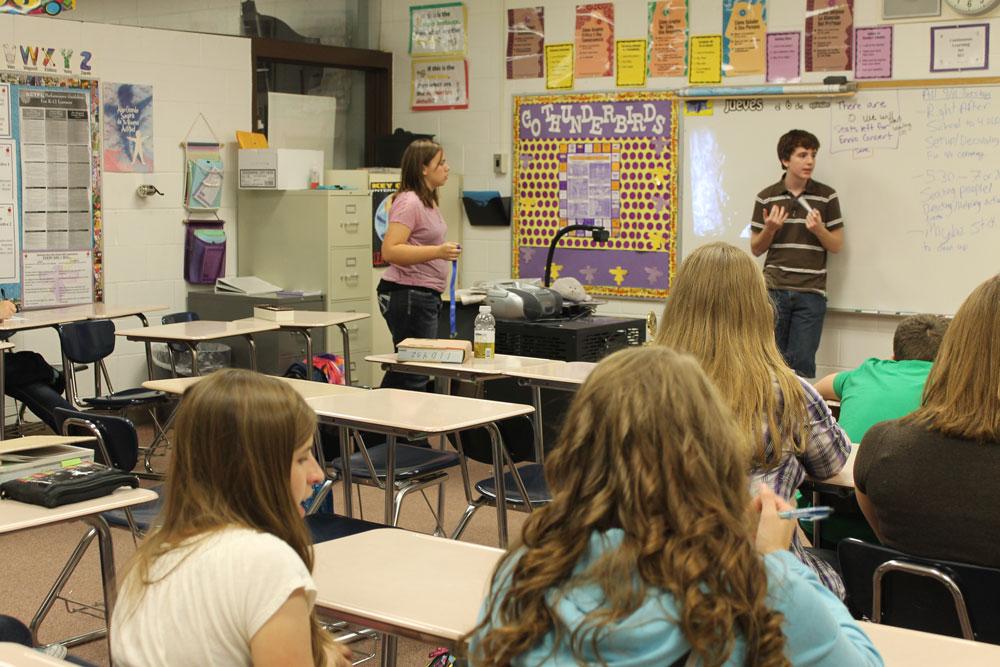 The Bellevue West Key Club is a group committed to serving the community and assisting others. Throughout the year, this club is involved in various community service activities dedicated to making our school and community a better place.
"We're kids just trying to help the community. I joined to meet some new people and have fun," freshman Rosemary Keenan said.
Every Thursday, this group of students meets to discuss service activities in the community.
"We're a group that works to volunteer and help out in the community. My goal in joining key club is to deepen my leadership skills," sophomore Lacey McPhail said.
Recently, the club went to the 9/11 ceremony to set up and help with the proceedings. Some upcoming volunteer activities that Key Club has planned in the community is to help out at football concessions, a fundraiser which will be used to put money toward the two conventions that Key Club members attend each year. They also do Thanksgiving baskets, which is when they put together food for Thanksgiving for families in need. The club might also sponsor a child from the angel tree.
Key Club members choose activities to support the community in various ways.
"You find some things that you feel strongly about, and then you choose the most possible. Then everyone sort of comes behind it," said McPhail.
Also, they have some obligations of activities that they need to support.
"We have service partners and they basically determine what different activities we do," junior Austin Moore said.
Moore currently serves as president of Key Club.
Some of these service partners include UNICEF, Kiwanis and the Red Cross, along with the Eastern Nebraska Community Action Partnership.
The Key Club doesn't only help out in the community. They also assist the students and school specifically.
"We do cleanups for the dances and games and we also do the Prom Promise," Moore said.
The Prom Promise is a form that students going to prom can sign, promising not to drink and drive on the night of prom.
The students in the club agree that while the club serves in the community, it also helps the members.
"Volunteering makes us better people," McPhail said.
Other members have similar ideas on the benefits for the actual members, not only the community.
"Key Club helps its members by teaching compassion," Moore said.
Overall, the Key Club works constantly to serve the community and the students in the school.
"It's fun and it helps people," Keenan said.
Megan Yanders
Reporter