Go Diego go: student-athlete excels both in classroom and on field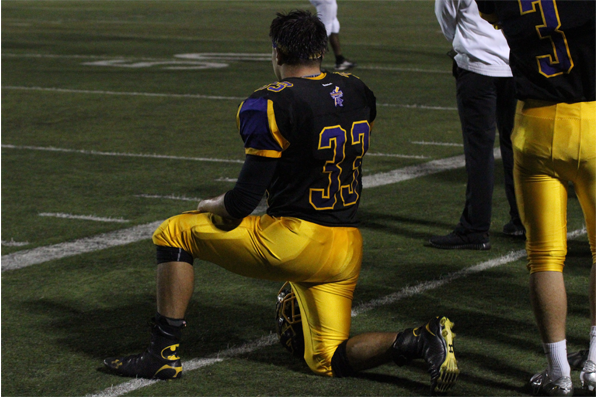 A student athlete's day isn't easy. Besides waking up too early to get to school like every student, they have daily practices that consume a majority of their time after school. With all the pressure that is placed on those student athletes, it isn't always easy to do well in school.
Some students, however, overcome the pressure and succeed both athletically and academically. Senior football player Diego Galvan is one of those exceptional students who excel in both areas. During school Galvan takes Advanced Placement classes, and after school he leads the Bellevue West football team at linebacker.
"I take AP classes to reach my fullest potential and to increase my drive to work harder in school because working hard is kind of like a lifestyle for me," Diego said. "I see challenges and I work towards progress."
Since his sophomore year, when AP classes first become available for high school students, Diego has taken 7 AP classes and started at linebacker for the Thunderbirds.
He tries to help mentor the younger players on and off the field.
"They look up to me in the classroom or on the football field," Diego said.  "I teach them new techniques or whenever they need help with homework."
Diego's charisma shines both on the field and in the classroom.
"Diego brings in a lot of personality," AP Physics teacher Kristina Armbruster said. "He has lots of great questions and he's always making the class laugh in a good way. He does his best every day in class so he's a fun student to have."
Armbruster also praised Diego's work ethic in class.
"Diego really knows how to manage his time well," Armbruster said. "I know he spends a lot of his time after school really busy. So when he's in class and he has work time he always takes advantage of it."
Diego also acknowledged the importance of managing his time.
"It's kind of just about time management as a whole," Galvan said. "I get home, I eat my dinner, I shower, and by then it's 8:30. You just kind of got to space it out. I got a study hall in GPS and you really got to make good use of your time and you can't be slacking."
Diego has definitely seen his hard work recognized he was recognized for his work on and off the field as he was named the International Brotherhood of Electrical Workers – National Electrical Contractors Association Scholar Athlete of the Week in week 4 of the high school football season
"It's a huge honor," Diego said. "It's cool because there are some scholars that aren't really athletes and to be an athlete and a scholar is kind of like the best of both worlds."
Diego doesn't do it alone. His mother, Margaret Galvan, is Diego's biggest supporter and fan.
She too is really proud of Diego's honor.
"We are extremely proud of him and his accomplishments," Margaret said in an email. "Being the baby of the family, Diego has had to follow in his brother and sister's footsteps, measuring up to their accomplishments.  Being selected for Scholar Athlete of the Week will give him some bragging rights for sure!"
Margaret shared a situation that happened with Diego last year in which he chose his team over a once in a lifetime opportunity.
"Diego had a once in a lifetime opportunity to fly out to California and ride in his brother's submarine the final two days of deployment.  Because it meant missing a week of school and missing a football game, Diego declined the invite because he didn't feel right leaving his team, especially so close to playoffs."
"In my opinion, this speaks volumes of his character and signs of a true leader."
Diego's support system is strong, as him and the guys on the team all have a special bond.
"We're extremely close," said Diego. "It doesn't even matter defense or offense. I'm friends with a lot of the offense and all of the defense. It's special."
With Diego's leadership and will to push himself to the limit, Diego looks prepared to leave high school; that doesn't mean it will be easy leaving the school behind.
"I'll miss everything," Diego said. "I'll miss just the time right before the game and you're about to walk out and everyone is waiting for you to walk out and everyone has the cool music going and Huffman is all excited. I'll miss going out onto the field."