Football Recap: Bellevue West vs. Omaha South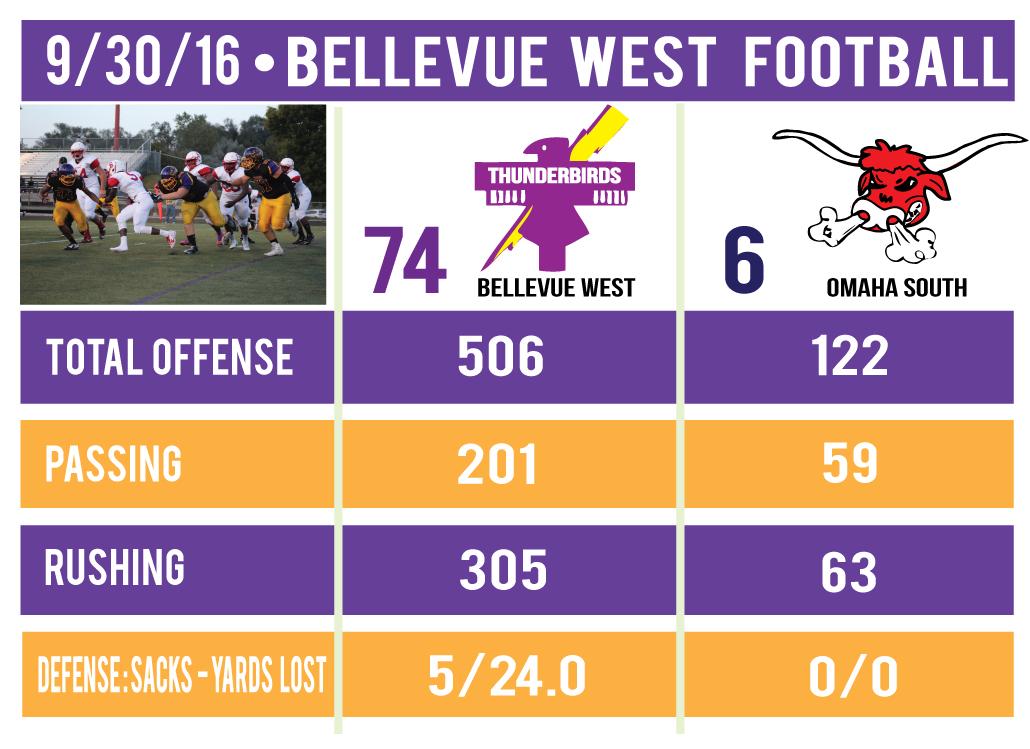 What happened: On Friday, Sept. 30, the Bellevue West Thunderbirds defeated the Omaha South Packers at home 74-6. The win resulted in a 6-0 record for Bellevue West. Omaha South fell to 2-4 after only mustering 122 yards of total offense.
By the numbers: Bellevue West ran 14 plays and scored 56 points in the first half alone. T-Bird running back Jaylin Bradley had an incredible performance, averaging 27.58 yards per carry on nine carries, giving him 248 yards. Of the nine carries he had, six of them resulted in touchdowns–all in the first half. The six-touchdown mark tied the Class A record for most touchdowns in a game. Joe Dolincheck also played well, completing 3 of 5 passes for 111 yards and two touchdowns. Omaha South quarterback Tavion Anderson threw 20 times with 8 completions and 59 yards. He also ran 13 times for 44 yards and one touchdown.
Did you see that? To begin the second half, Omaha South kicker Noah Zendejas kicked it to the Bellevue West ten yard line where it was fielded by sophomore wide receiver and cornerback Michael Smilko. Smilko then preceded to elude defenders on his way for a 90-yard kickoff return for a touchdown. It was Smilko's first touchdown for the Bellevue West varsity football team.
Next up: On Friday, Oct. 7, Bellevue West will head to Northwest High School to play the 2-5 Omaha Northwest Huskies.
Nathan Hawkins
Reporter 
Graphic: Jacob Kunes