Breakout: BPS teachers present learning options at NETA conference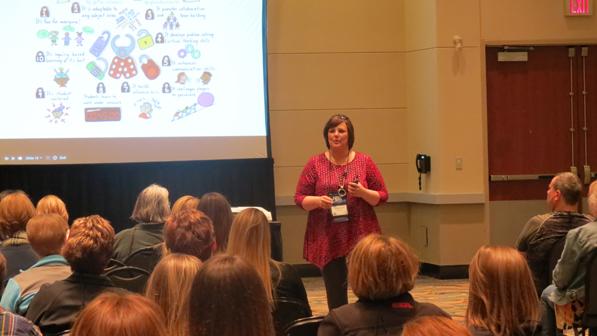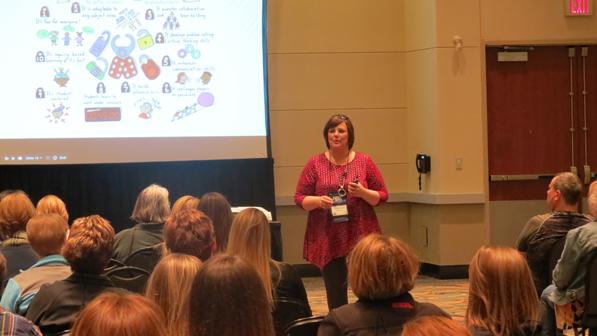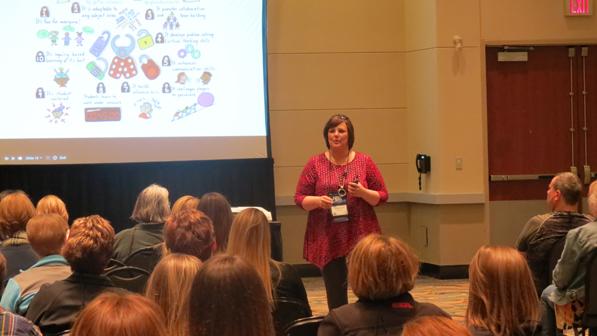 On April 21-22, the CenturyLink Center hosted the 2016 Nebraska Educators Technology Association (NETA) conference where teachers from several districts presented their ideas for new ways to integrate technology in schools.
BreakoutEDU is an idea that many teachers are interested in. Fairview fifth grade teacher Michelle Boyce presented a 45 minute session to an audience about BreakoutEDU and her experience in her classroom.
"It's the idea of changing your curriculum into a game based thing because some of three big soft skills we are teaching kids is how to collaborate, how to communicate and how to critically think on their own or problem solve," Boyce said. "So Breakout hits all of those aspects."
During a breakout, the students are given a situation and they have to try to figure out the clues and unlock a box with a lock, or a couple locks, and get their prize inside. The trick is that they have to work together, they only get two hints and the teacher can't help them with any clues.
Boyce's students worked together on eight different breakouts this year and have only been successful once, but there comes greatness from failure.
"The kids don't really look at it as failure because there is so much validation when they find one clue or solve one lock, that kind of feeds their desire for success," Boyce said. "Even though we haven't broken out there's still so much the kids learn along the way and they have such fun doing it that it's worth it."
Two Springs fourth grade teacher Sharae Geldes shared her experience with Breakouts at the NETA conference during Poster Sessions.
Geldes said her students have done a couple Breakouts in class in which some were successful and some were not, but the students still worked well regardless of the outcome.
"They are probably about 50/50 on their breakouts but even if they don't breakout, they are kind of disappointed but they still have fun playing so it doesn't bother them too much to not breakout," Geldes said.
In the breakout, the students are forced to communicate and cooperate with each other in order to figure out how to unlock the box.  
"Sometimes a group will get stuck on something and the kids who you don't usually expect to kind of be the shining star is the one who solves the problem so then they really start to appreciate each other and work through it," Geldes said.
With Boyce's class, she has seen a lot of unexpected but important team working skills while also allowing individual students to step up and figure out the clues. She said she has watched her "gifted kids fail" and her "resource kids thrive."
Boyce and Geldes both share their love for BreakoutEDU and try to spread their word about the positives of applying them to classes.
"It just kind of changes the way the students and teachers are thinking and creates a better community in the classroom because they start to see each other strengths and feed off of those," Geldes said.
Boyce wants change to happen in the classrooms and thinks hands on activities like the breakouts will make school fun again.
"I think kids are tested to death and I think sometimes school is kind of looked at as a terrible place to be and so I want kids to want to come to school and want to learn," Boyce said. "That's what I want."
The girls basketball team went downtown to the escape rooms at Entrap Games which is the same idea as BreakoutEDU. Sophomores Asja Woodard and Laura Jurek both enjoyed the escape rooms and agreed that breakouts in classroom would be beneficial.
Jurek said the escape room was challenging but it made them all work together and she thinks BreakoutEDU would be positive for other students to try.  
"I think it would be a good thing to challenge brains but it would give us a chance to take a break from school," Woodard said.
Although a majority of students in Bellevue who have tried breakouts are elementary schoolers, Boyce said the idea of breakouts first started in high schools.
Boyce said it's harder for high school classes to find time for a breakout session because of the short class time, but implementing them with higher level education is something she would like to see in the future.
"I think you guys have it made in the shade because you think at such a high level that there are so many more aspects that you can bring in," Boyce said. "I would love to see you guys try it."
Brooke Riley
Co Editor-in-Chief