T-Bird Talks spark discussion among students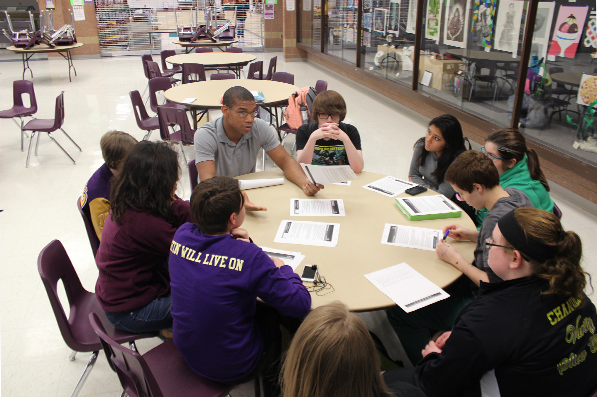 Started by sophomore Nathan Peterson and junior Patience Jurgens, T-Bird Talks are monthly get togethers where students can collaborate and talk about different topics. The talks were inspired by a group called Inclucity and Peterson and Jurgens wanted to bring a part of that program back to Bellevue West.
"It's just a chance to give students of Bellevue West a place to air any concerns they have or talk about issues they see are prominent in the school or in the community," social studies teacher Brenna Dacey said.
Peterson said he likes to hear all the thoughts other students have to say and help teach and inform people about problems that arise at school and in the community.
"The main purpose of the T-Bird talks is to help to better our community by teaching everyone how to treat others better, how to know different things about themselves and everyone else," Peterson said.
T-Bird talks are led by students facilitators who are either in NEST Club or have been to the Inclusity Camps. They are given topics, usually pertaining to human rights, and talking points to lead group discussions and listen to what other students have to say.
The facilitators then report back to Dacey, dean Jessica Frank or principal Kevin Rohlfs on what was talked about and let other adults know of problems to be aware of.
"From what I have observed and what students have said, it was just nice to feel like they were being heard because again, our school and community are not perfect and a lot of times I think students feel like they don't have a place they can go and really discuss these issues and feel like someone is going to take them seriously," Dacey said.
The problems students talk about don't necessarily have solution-based, but the adults and facilitators are open to any solutions students come up with.
"I think it's cool, listening to other people's perspectives because it kind of shows you're not the only one," senior Lydia Granahan said.
Senior Jack Cowgill said he likes to hear everyone's thoughts about the discussed topics and the different perspectives are interesting to hear.
T-Bird talks started Dec. 2015 and still continue to have monthly meetings. Dacey said the first meeting had a great turn out because students promoted the talks more than they do now.
"The last two, our numbers have been a little bit lower but as far as what they are talking about and what students are saying and the response we have been getting from the students coming, I think they are going really well," Dacey said.  
Dacey said she wants the talks to continue in the future, with Peterson and Jurgens continuing to lead for another year.   
Peterson said he wants to see more students attend Inclucity and bring what they learned back to the school and the community.
"The more everyone knows about this stuff the better the community will be and the more equal everyone will be," Peterson said.
The next T-Bird talks will be March 11.

Brooke Riley
Co Editor-In-Chief