Kieser shows quarterback prowess early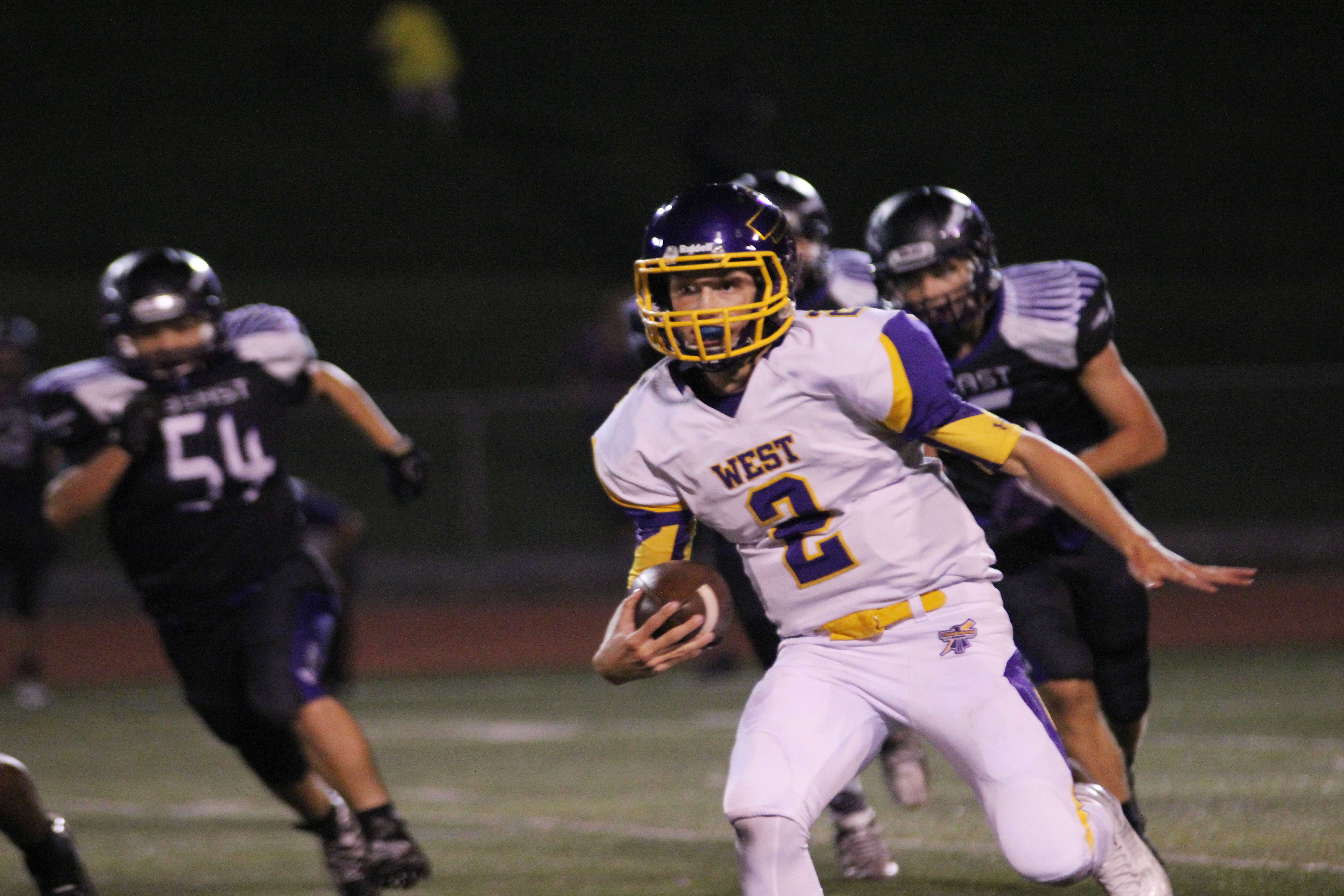 In second grade, Evan Kieser decided to follow in his dad's footsteps and play football as a quarterback. In sixth grade, he took a shot at wide receiver only to realize he was a natural-born quarterback. Now as a 14-year old freshman, Kieser holds a spot on the Thunderbirds varsity football team as the second-string quarterback.
Going into his first varsity game, Kieser said he was nervous because it was also his first high school game. Seven wins and seven games later, he holds a different mindset.
     "Now I've played in every varsity game so far and I've played JV so it's all just normal now. It's just another game," Kieser said.
Head coach Michael Huffman said Kieser is fortunate enough to be getting a lot of playing time, which is reflecting positively on Kieser's performance.
"Evan's a gifted athlete that's pretty good between the ears so he's picking up our passing game fairly quickly," Huffman said. "Run game he's already great. He's a great athlete, he's fast, he can change direction. His passing game is where he's really improving."
In total this season, Kieser has made a total of five passing touchdowns and 169 yards as well as 89 rushing yards and a touchdown. He has scored six touchdowns total.
In the first several games of the team's successful season, the second-string and junior varsity players have had their fair share of time on the field. Among these players is sophomore wide receiver Cedric Johnson. Johnson said he and Kieser work well together and have progressed this season.
"When me, Kieser, and all of the other receivers are on the same page, it's lights out for the other team. He is great at adjusting to my play type along with all of the other players," Johnson said.  
Huffman credits Kieser with the establishment of the second-string players' success in varsity games.
"Our JV has actually scored more in varsity games than they ever have before," Huffman said. "That's partly because he's making good decisions. His ability as far as reading defense and throwing to the right place has improved. He hasn't thrown an interception yet and he's got multiple touchdowns so he's done a nice job."
Senior quarterback Jadyn Kowalski said he hopes Kieser brings leadership and football knowledge to the team within the next few years.
"Playing quarterback is more of a mindset rather than a game," Kowalski said. "It's more of a thinking game than actual play. You have to know what you're going to do before it actually happens."
Not only is Kieser a stand-out on the field, but also in everyday life.
          "He's an extremely funny person to be around. He's always positive about things and he has a great character," Johnson said.
           Huffman views Keiser as having a good work ethic and always smiling and happy.  
"Some kids walk around staring at the ground the other half are happy and high-fiving everybody," Huffman said. "Evan is one of the happy one's and I like that, especially as a quarterback. The QB always has to be a positive leader."
As for Kieser's future as a Thunderbird, Huffman believes if he works hard enough, the rookie will continue to come out on top.
"The quarterback has to be the hardest working kid on the team because we put a lot in their hands and I think he's going to be able to do that," Huffman said.
An earlier version of this story misspelled Evan Kieser's name. The Thunderbeat regrets this error.
Codi Pierce
Business Manager