Boys Basketball Rebuilt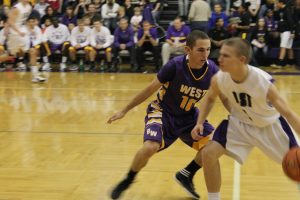 The boys basketball team is looking like a state contender already, four games into the season.
With a record of 6-1, losing only to 3rd ranked Bryan, the Thunderbirds are playing steady after a rebuilding year straightening out some kinks.
After last year's 13-13 season, the boys varsity basketball team looked ready to play Tuesday night against cross town rival Bellevue East. The Thunderbirds played with fire and enthusiasm as they played at a high paced level the whole game.
Senior Cody King started strong with two 3-pointers, and sophomore Brad Brazeal also hit a three to put the T-birds up 9-0 three minutes in the game.
The Thunderbird defense played a large role in keeping the score a manageable spread the whole game.
"I think we have the best defensive team in the state," said coach Doug Woodard.
Woodard stresses defense the most in practice. If they do not perform well in practice they have conditioning–a good amount of it–and the players know it.
The Thunderbirds held the Chieftains to a mere 45 points and Woodard was pleased with the defense's performance.
Normally, having a lackluster offense requires having a great defense. However, Tuesday night this was not the case as the offense sparked early in the game and created a firestorm offense throughout the whole game.
"We shot well and played with a lot of energy," said senior Jeremiah Dotzler.
Dotzler led team scoring in the first half and finished with 13 points. Junior Deon Pettigrew took over the second half with 13 points. The T-birds had four players who scored in double digits.
"That's the thing about our team. We don't have a single key player," said Woodard
The team spread out the ball and looked to pass the ball after driving to the hole. Scoring was evened out across the board without one player taking over the game.
The team does need to make some improvements if they want to reach state.
"We need to work on taking care of the basketball and have more discipline," said senior Zach Dibble.
"We have a really good shot at making it to state. Our goal is to have districts here at West," said Woodard.
Both boys and girls varsity teams will compete in the Metro Conference Holiday tournament which begins on Dec. 29.