Champion inspired by father to achieve greatness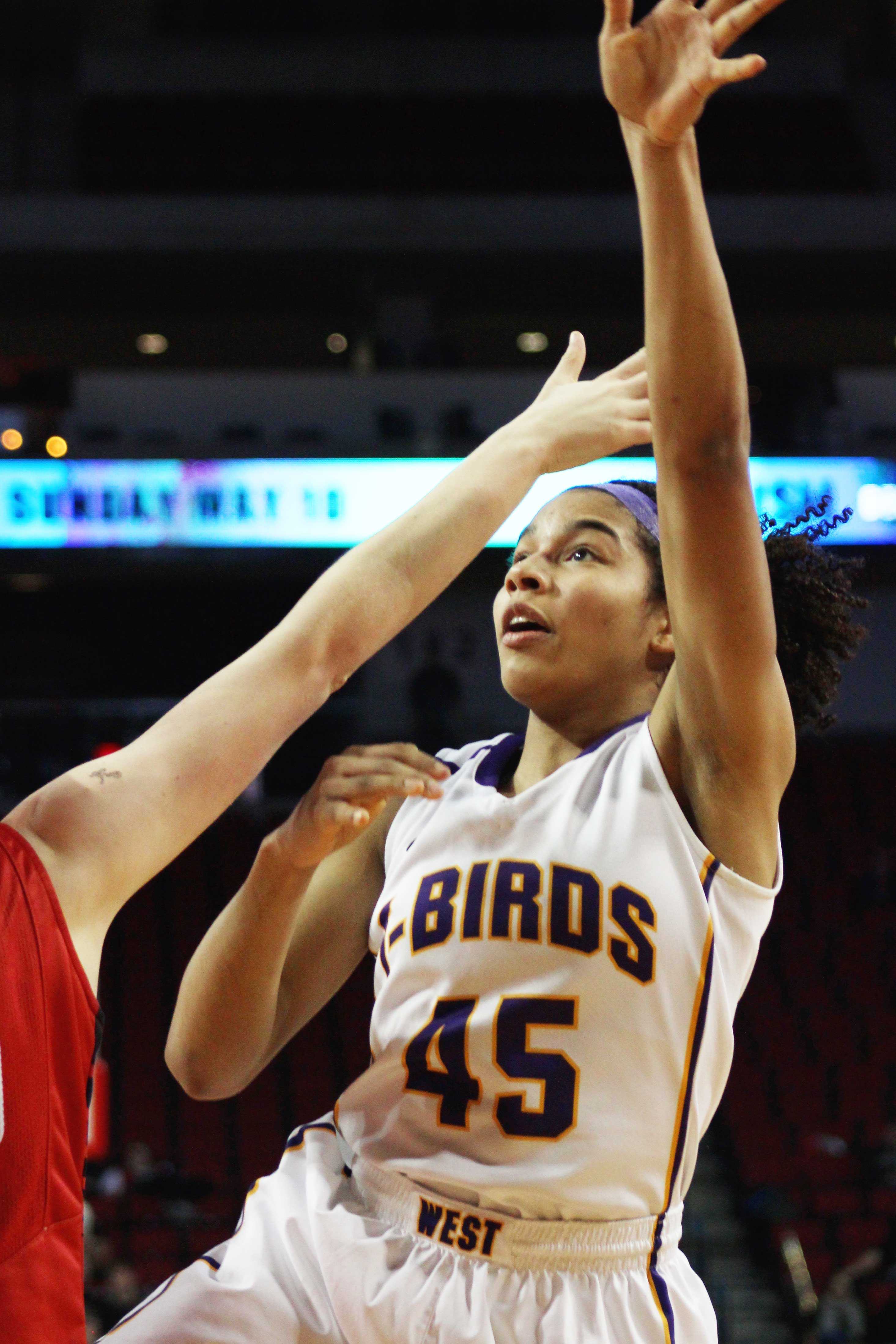 All athletes have dreams and goals they try to accomplish within their life. Junior Chloe Akin-Otiko, a basketball player and track star, pushes herself to achieve her set dreams and goals.
Chloe started playing basketball in the first grade.
"Basketball has always been a part of our family and it's a really huge deal because my dad played basketball in college and then professionally. My sister plays basketball in college so it's like our family sport," Chloe said.
Chloe's inspiration is her dad, James Akin-Atiko. He immigrated from Africa in 1983 because he was recruited for a four-year scholarship by the head basketball coach from Oral Roberts University when he was 20 years old.
James Akin-Otiko was born and raised in Lagos, Nigeria. He played basketball there and participated in the African championship. When he came to the U.S., James Akin-Otiko said it was not very difficult for him to switch from African to American customs because he grew up with children of all nationalities.
As an inspiration, James Akin-Otiko raises Chloe based off of his culture.
"I come from a culture where the children are directly influenced and impacted by their parents and their culture," James Akin-Otiko said. "The love for God, family, learning and maximizing one's potential are values that are instilled in children from when they are young.  Chloe has grown up learning about and living with the above mentioned values."
According to James Akin-Otiko, he and Chloe have a wonderful relationship. He said Chloe is an amazing young lady and is very driven in a way most people don't understand.
"She is a high achiever and never needs to be told to do her best, because she always does her best," James Akin-Otiko said.
James Akin-Otiko also said Chloe is a very obedient daughter. She helps out around the house and puts God and her family first.
"All in all, I feel really blessed to call her my daughter.  She is an amazing young woman of God.  I love her with all of my heart," James Akin-Otiko said.
The best part of basketball for Chloe is the teammate atmosphere and, of course, winning.
Two years ago, the Bellevue West basketball stadium filled with people from across town to watch the annual West versus East basketball game–a game that happens to be Chloe's best memory from basketball.
"We were down by the commons and we could still hear the crowd all the way down from the commons and it was really loud," Chloe said. "It was just a really shocking experience when we walked in and everyone was there. It was a really huge deal."
Track coach Andrew Crawford said Chloe is one of the kindest people he has ever met.
"Chloe is a once in a generation type of athlete.  I could coach for the rest of my life and I likely wouldn't see another athlete with the combination of pure talent and determination that Chloe has," Crawford said.
Junior Amber Menard said Chloe has a very "bubbly" personality and is an all around happy person.
Menard and Chloe have been friends for the past four years.
Last year, Chloe participated in the one hundred, two hundred, and 4×4 relay during the track season. She is currently the state champion of the one hundred and two hundred.
"It's really amazing to me because [the records] have been there for so long and just thinking that I was able to change a part of the track history in Nebraska is pretty cool," Chloe said.
Crawford said she leads her teammates by example. She puts her best effort forward and shows everyone what can be achieved.
"She is the best at what she does and there is a lot of pressure on her to keep getting better and better and keep breaking records," Crawford said. "She is even among the fastest athletes in the nation so that is more pressure. That kind of pressure can be a lot to deal with for a high school student but she has handled it extremely well so far."
Menard thinks Chloe's athletic successes are incredible and she has been working hard for them.
"I think she makes me want to be a better person. She does really well in school and we're really competitive so we try to do better than each other," Menard said.
Chloe knows the importance of staying humble.
"I think its just the way I am. I thank God for all of my abilities and he's given me all this great talent, and I just feel like I shouldn't make more big of a deal out of it than it is," Chloe said.
This year, she has three AP classes and still manages to fit time for her athletic activities.
"Sometimes I just kind of put things off and wait until the last second, which is not the best thing to do. But I just try to get the things done that are most important," Chloe said. "When I go to basketball or track I just kind of forget about school, and it's kind of just like a break from everything."
In her free time, she likes to hang out with her family because they are very important to her.
Currently, Chloe knows she is going to college after high school, but she is unsure what she wants to do in college or where she wants to go.
Menard said she thinks Chloe will do great in the future no matter what she decides.
"She'll do well in college and athletics if she goes to the professional level."
Crawford said after Chloe's freshman year at the track awards, everyone in the room knew that greatness was in her future. He thinks she will be very successful not only athletically but also academically.
"I'm just enjoying what I have right now, living it up," Chloe said.
Brooke Riley
Reporter