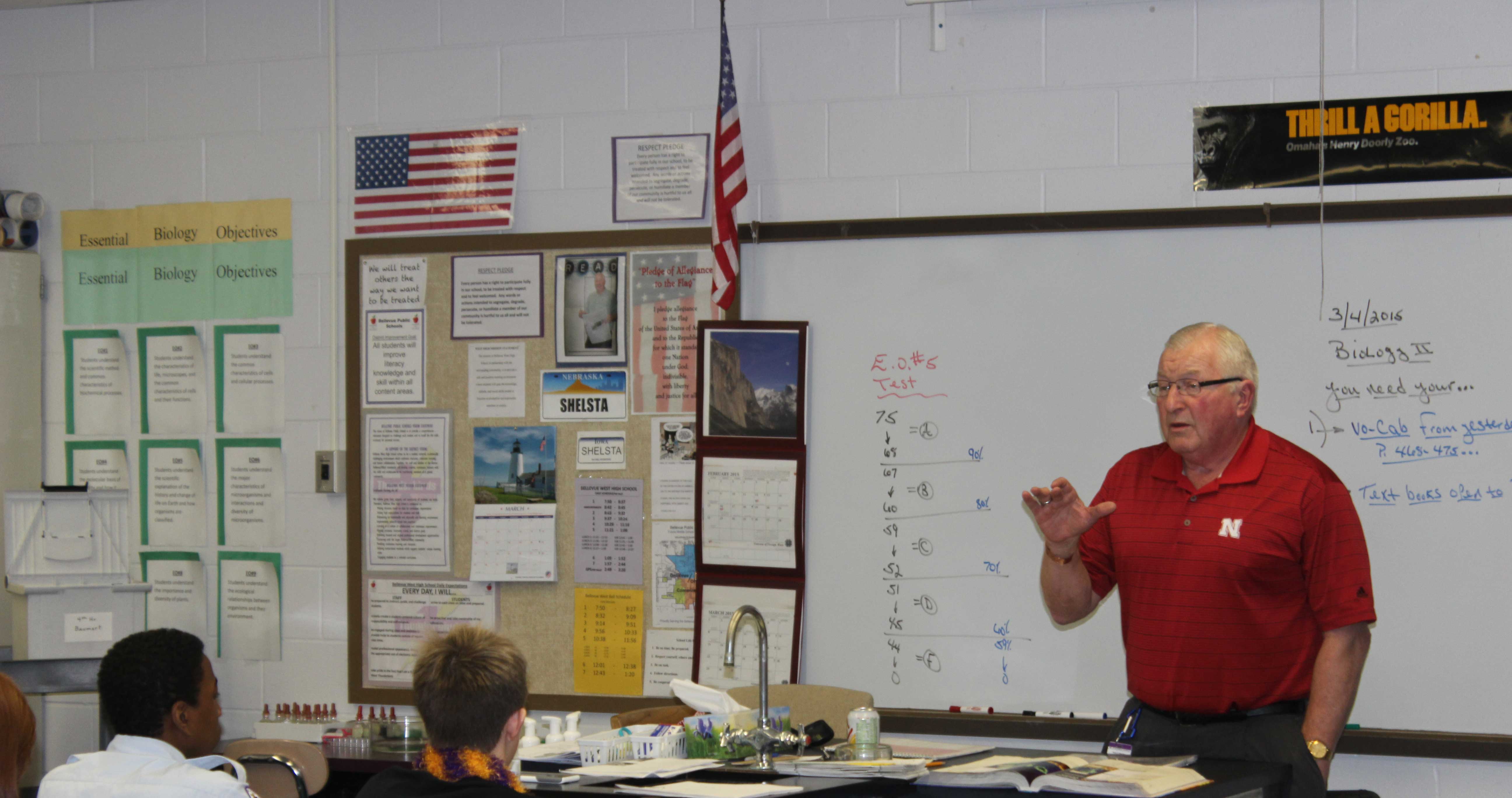 In sixth grade Terry Shelsta dreamed of teaching high school and coaching a high school boys basketball team. This dream came true, and has lasted for many years.
"[The freshmen] think I'm only 27, but this is my forty-first year teaching," Shelsta said.
This was the first year that Shelsta has not coached, which will make his coaching time a total of 40 years.
"It was just time," Shelsta said. "Everything has a finishing point. Last year was my fortieth year, it wasn't my thirty-eighth or thirty-ninth, it was forty."
Shelsta also wanted to go to the games of his children, who coach, and grandchildren who play on basketball teams.
Teachers can learn from their students, like their students learn from them.
"[Teaching's] made me current, because everybody in front of me is always fourteen, fifteen, and sixteen years-old," Shelsta said. "The only person that changes age is me. It's kept me young."
Shelsta has made many friends through this job including physical science teachers  Joe Parks and Austin Zeimet.
Parks said his first impression of Shelsta was that he appeared strong and outgoing. Parks also said that Shelsta always had a smile on his face. Zeimet favors the stories of Shelsta about his glory days in coaching. Laughing, he said his favorite one is of Shelsta's team losing to Omaha Benson.
"His team held Erick Strickland to 43 points in a loss to Omaha Benson," Zeimet said.
Even with that loss Shelsta has no regrets towards his past, in both teaching and coaching.
"I would say teaching and coaching is not for everybody, but for the right person it is," Shelsta said. "If I had to do it all over again, I would."
He explained that he is only one or two years away from retirement as a teacher.
"I am probably not looking forward to that because I enjoy this," Shelsta said. "I enjoy what I do. I'm edified by it, professionally fulfilled by it."
Shelsta said he will not return as a substitute teacher.
"I want to be all the way in the deep end of the pool or not in the pool at all, I don't want to be ankle deep in the pool," Shelsta said.
Shelsta teaches about 100 students per year and has been teaching for 41 years with an overall number of 4,100 students he has taught. Shelsta has made life long relationships with his students and colleagues.
"They are a lot like me," Shelsta said, "We're here for the students. We're here for their knowledge. We believe in working hard. We believe in discipline, but you do it as a group, as a team."
Haille Cox
Reporter