From grumpy grinches to joyful souls: be grateful year-round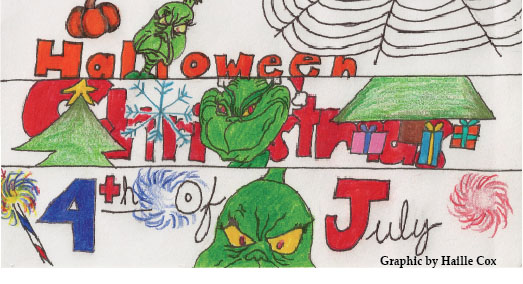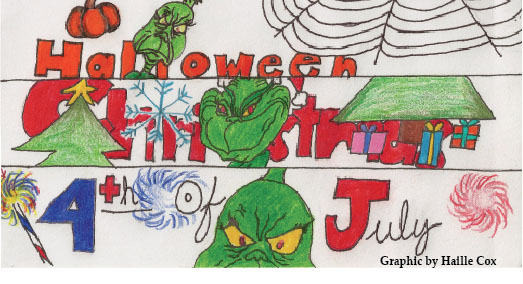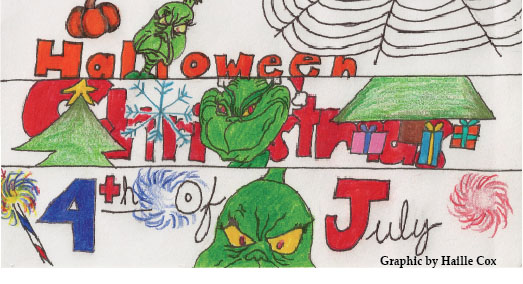 I sit in front of a fire plush pajamas on and my fuzzy socks warm my feet. In my hands perched is a freshly brewed cup of warm cocoa. The fire crackles and I remember the past holidays spent chasing my loved ones around the homes of my relatives and friends.
Christmas is the time of year where grinches put anger away. They bring out joyful cheer and hope to children. Christmas pauses stressful lives and allows for quality time with family and friends.
Classic holiday meals include a roasted turkey, jellied cranberry sauce, and the famous green bean casserole. Some religious families sit and read the story of baby Jesus. Others sing carols around the piano or to neighbors. Either way, most families accomplish something they do every year which brings out all untroubled spirits.
Having traditions every year makes one feel needed. When I shovel my Grandma's driveway so she doesn't fall and break her fragile hip, I feel as if I am needed. Helping Grandma makes me lighthearted and that is all I could ask for from her during the holidays.
Every year my family used to bake sugar cookies. My Grandma made it mandatory. She brought everyone together whether they wanted to or not. We would roll the dough out and spread them out on the table after baking them. Grandma would make homemade icing and we would add our favorite colors it the mix.This activity gave everyone something to look forward to every year.
When someone doesn't have a family to celebrate Christmas with, they can do other things to fulfill their holiday cheer. For example, some may volunteer at shelters or help food banks. During the holidays. everyone can find joy in helping others.
The holidays leave no time to be a grinch.
The grinch is seen as rude, insolent, and infantile. He possesses the need to ruin Christmas, until he realizes the meaning of Christmas. It's not about the presents; it's not about having the perfect breakfast or dinner; it's about spending time with family. It's about doing the things you have become fond of and enjoy them with the ones you love.
Grinches: end the attitude and join in on the holiday celebration. Sled down a hill with your friends or cuddle up near a TV and watch your favorite ancestral Christmas movies, the ones your parents played for you when you were younger.
Do all of the things you did as a kid to make you feel young again, and join in the holiday mood. Accomplishing all of this will give you the chance to see celebrations differently and in a more positive way.
Haille Cox
Reporter