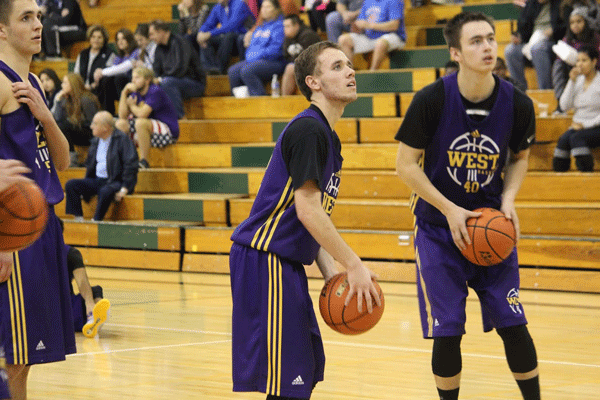 When the topic of conversation at Bellevue West is boys basketball, last year's successful record and state championship title are quick to come to mind. The team hopes to have a repeat year and end up back in Lincoln to win another state title.
"We definitely want to have a winning record. I think our goal was at least 26 wins this year, which is definitely possible," junior Cade Johnson said.
Last season the team had a winning record of 21-6. They defeated Omaha Westside 56-50, in the state championship game. The Thunderbirds have higher standards to meet this year as defending state champions.
"It puts a target on your back," senior Malik Hluchoweckyj said. "You play a lot better because everyone wants to give you their best shot when you play them."
Coach Doug Woodard believes that his standards have always been high for his team. A key goal of his every year is to get to the state tournament. The team likes to host districts and Woodard feels like if they can host another district, they'll have a good chance at winning it and advancing.
"The season's going to stand on its own regardless of what happened last year," Woodard said.
The team feels as if their coaches have raised expectations after last years title.
"There's a lot of pressure from coach about carrying ourselves and playing like champions because that's what we are," senior Brad Cluff said.
The players' ultimate goal is to go back and win state again. They also want to be more consistent than they were last year.
"We got consistent towards the end of the year but until that point, we could be pretty good or we could be pretty bad," Woodard said. "They want to be consistently excellent and have less times where we take a nose dive."
When it comes to strengths of the team, overall the athleticism, quickness, and consistent shooting abilities of the boys are strong suits. The three returning starters bring back a lot of experience and ability.
"We're a fast team that can get out and run. We also have a lot of shooters on the team that can help us stretch out the defense," Cluff said.
Another strength the boys have is that they have strong relationships with each other. They have good bonds and fun times on and off the court. These times, also involve a lot of laughs.
"I really enjoy all of them. We're like one big family," senior CJ Johnson said. "We play really well together and have great team chemistry."
Other teammates describe the relationship simply as, a brotherhood.
"We're all brothers, they're considered family no matter what," senior Jordan Warner said.
The Thunderbirds will take on Lincoln Southeast tonight, December 5, at 7:00 p.m. in the Thunderdome at Bellevue West.
Codi Pierce Reporter