Athletic programs wear pink, support Breast Cancer Awareness month.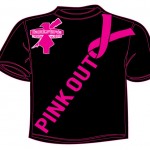 This year, more than 2.8 million women had a history of breast cancer, or were currently being treated, according to Breastcancer.org. In total, one in eight women develop invasive breast cancer during their lifetimes.
As a nation, we have devoted a month specifically to raise awareness for those diagnosed with this disease. From October first to 31, companies, organizations, and schools devote their time to contribute to Breast Cancer Awareness month. This year, fall athletics programs at Bellevue West are "thinking pink."
Football and volleyball have participated in the cause. Each of these teams purchased pink attire, and some have gone over the top to show their support. The volleyball program decked out in pink jerseys and hairpieces for their game against Millard South on Sept. 30.
The T-bird football team will be sporting pink for their last home game against Creighton Prep on Oct. 17. Individually, the players can choose if they are going to participate in the movement. Most of the team will be wearing items such as pink socks, chinstraps, or sleeves, to show support out on the field.
"Everyone as a football team becoming united to support a cause is a great feeling," senior Kyle Dosher said.
In addition to the support from sports teams, the Flock Squad is joining in as well. They plan to recruit a large portion of the student body through advertising to wear pink to get hyped for the game.
"We're all coming together as T-Birds to raise awareness for breast cancer," sophomore Jake Reckin said.
As well as gaining encouragement from the Flock Squad, FBLA is another participating club. Two student members, seniors Debbie Seeley and Sam Sobczyk, proposed the idea to advertise pink hoodies, which sold out within a week. Because the sweatshirt sales were successful, more hoodies were purchased along with pink t-shirts, and sales resumed on Oct. 13. All proceeds will be donated to the local Breast Cancer foundation.
"Our goal is to raise over $1000 for breast cancer awareness, and we'll hit that goal. The t-shirts might get us to $1500," sponsor Pat Hinkle said.
Overall, Bellevue West's efforts to raise awareness for breast cancer have been successful. As a student body, many at West are making a difference–one cause at a time.
Emma Larson
Reporter