Poetry Club is Louder Than a Bomb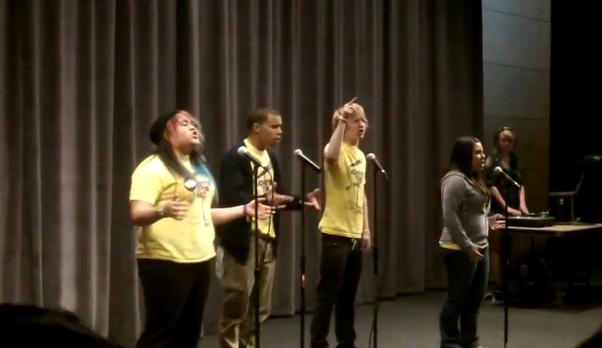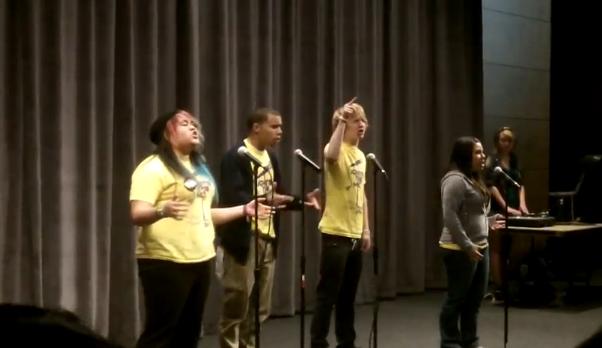 Reporter Olivia Cunningham
After school in room 124 Poetry Club students are talking, joking around about the events of the day when their coach arrives with news so exciting, he's bouncing on his toes the whole time.
One of the 2011 National Poetry Slam champions, Jovan Mays from the Denver Slam Nuba team, will be coming to practice for exactly one hour to work with the aspiring poets – free of charge.
Bellevue West Poetry Club has spent months preparing for the first youth poetry competition in Nebraska, Louder Than a Bomb. They've written their own work, rehearsed performances and qualified for the third and final bout. On April 20 they competed against Duchesne Academy, Lincoln High School and Creighton Prep in the Harper Center Auditorium at Creighton.
"The whole community just kind of went nuts after Sunday [Preliminary] win, but it was a small venue," West alum and coach Gage Wallace said. "Then it all just exploded when people heard how incredible it was."
Wallace has been deeply involved in the poetry scene of Omaha and Chicago, where Louder Than a Bomb was first established. When he heard it might be coming closer to home, he jumped to make it happen.
"I heard that there was an opportunity for Louder Than a Bomb Omaha, but it was kind of in its infant stages of happening. I immediately signed on," Wallace said.
He got busy promoting poetry slams around schools with films of performances. Choosing West to mentor was a no-brainer.
"I requested Bellevue West to be the team that I'm allowed to coach since this is where I went," Wallace said.
Before the slam began their first feat was putting the pen to paper.
"Once we started writing we produced a lot, and that's the first step," English teacher and Poetry Club advisor Bob Nikunen said.
Students tapped into different outlets for inspiration, mostly stemming from personal experiences.
"The first thing I thought about was my mom's miscarriage," freshman Nayeli Hernandez said.
Sophomore Clayton Shellgren's poem began with a picture instead of words.
"Imagery was a lot of the inspiration so I just went with an image that inspired me and put my life into it," Shellgren said.
Once poems are written the group works together alongside Wallace and Nikunen to discuss, polish and start performing.
"Gage has everybody offer their two cents. He works with them one-on-one in front of the group," Nikunen said.
Senior Makayla Kynard said that the timeline from discussion to performance ready stretched over just a few days.
"We'd meet on Tuesday, then I'd have Tuesday night and Wednesday night to memorize it. Thursday night I needed to be memorized and have it ready to go for our bout," Kynard said.
Not every member performed for Louder Than a Bomb.
"We want to put up our best performers. Whoever's ready with a poem memorized, with the best performance; we'll put them up there," Nikunen said.
Slam individual and group performers included seniors Kynard and Michael Humm; junior Drew Shifter; sophomores Shellgren, Hailey Stolze and Lizzy Hines; and Hernandez.
Although the slam is critiqued and scored by randomly chosen judges, the atmosphere is rowdy, loud and extremely supportive.
"Everybody recognizes quality when they see it and we celebrate it; no matter what team you're on," Nikunen said.
Humm agreed that the slam remained a positive and appreciative space throughout the competition.
"Even though it is a competition…it's almost like a poetry convention. You meet all these new people and we just enjoy seeing other poets do their thing," Humm said.
All the performers have pre-written and rehearsed pieces but the team plays who will actually compete at that certain bout by ear.
"After he saw the competition, he would just pick somebody from the team and give notes on the things we have issues with. He understands which poems stand best against another one," Shellgren said.
Roughly 500 people attended the slam, not including the many who also viewed the live stream online, where West won 2nd place, missing 1st to Duchesne by a 10th of a point.
Kynard said she was proud of her team's success, but did not resent Duchesne's victory.
"I was really proud of how we placed. We were this close to beating Duchesne or even tying with them. Even to know that we were up there with them was amazing. They're not cocky or rude, they're just great people over all," Kynard said.
West also received "The Spirit of the Slam" award; the sportsmanship award proving that West possessed the best attitude and appreciation for the slam both on stage and in the audience. Wallace couldn't agree more.
"I didn't really think about winning or the competition, mainly just putting up passionate work that was done incredibly and they succeeded in that," Wallace said.
The experience has proved beneficial for all involved both in and out of the classroom.
"There are people in this club that I would have never talked to without being here. I've made more friends," Hernandez said.
Shifter said the entire experience was worth the effort.
"If Louder Than a Bomb was once a week I would be totally okay with that. Even though it's a lot of stress, it's fun," Shifter said.
For Kynard, Poetry Club can't be compared to other activities.
"It's not like any other extra-curricular activity that you'd be involved in," Kynard said.
She said that Wallace created an exciting, accepting environment.
"He wants you to be yourself, he wants you to feel comfortable, and he just wants you to feel like you're doing something that you love to do. That's what it was," Kynard said.
 Wallace said that his passion for poetry drove him to do all that he could to help the team, and in turn the students did the same.
"I care about this troop team so much and for as long as I have power to do things…throughout my professional career…I will continually be giving everything I can to the members of this team," Wallace said.
Kynard put the spirit of the team in a nutshell with Wallace's motto.
"The point's not the point, it's the poetry" Kynard said.
For those that want a taste of the slam, check out the channel BWslampoetry on Youtube. http://www.youtube.com/user/BWslampoetry
The team will also host a performance May 2 during GPS.