Junior Ismael Chaparro transitions from Chihuahua, Mexico to Bellevue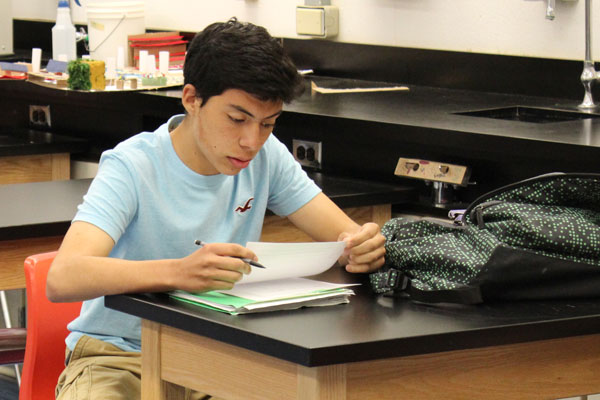 Junior Ismael Chaparro has been new to the U.S. since the beginning of second semester. He moved from Chihuahua, Mexico to Bellevue on Dec. 28, 2013.
"It's better here, and I get to live with my dad. That's why I moved here," Chaparro said.
Since starting the second semester at Bellevue West, Chaparro became interested in school and grew close to his English Language Learners class. English Language Learners, or ELL, is a class where students who are unable to communicate fluently or learn effectively in English receive modified instruction in both the English language and in their academic courses.
"My favorite class is ELL because there are a lot of Hispanic people who I can talk to easily," Chaparro said. "Ms. Caples is a good person, because since I came here, it's like she helps me with everything and she always tries to make things easy for you and to succeed."
Barb Caples is an ELL teacher who assists Chaparro during third period on a day-to-day basis.
"When I first met him, I had to give him the English language proficiency test, and it was kind of a formal thing," Caples said. "I introduced myself and gave him the test. I was surprised at how much English he had coming in and I asked him if he had studied and he said no. He somehow inherently knew a lot of English."
Chaparro had some previous knowledge of English due to his schooling in Mexico. The equivalent to what he learned in Mexico is comparable to a year of level one Spanish at Bellevue West. According to Chaparro, they focused more on the literary spectrum of English, rather than the verbalization of the language.
"I don't have a problem reading in English because of my other school. It's better for me to actually read English because it's easier to just see it. I have trouble when people talk to me, because they just talk really fast," Chaparro said. "I like reading a lot, it's just a lot easier to understand and nicer than someone talking."
With Caples, Chaparro is seen as more outgoing and comfortable because he spends much of his time with her in class. According to Caples, his personality in ELL differs from his personality in other classes.
"He is not timid in this class. In here, we are all together so much all day long that we all sort of know each other really well. It's like if you go home. You're different at home with your family than you are in an environment with people you don't know very well. He's still quiet, you know, he's not loud or obnoxious. He's very well mannered."
Chaparro's English teacher, Nikki Salinas, helps him in her spare time during class. Even though Chaparro has problems with English, he makes it easy for Salinas to teach because he is a quick learner.
"I don't ever have to work around him just because he is so smart. So, the only thing differently that I do is make sure that if there is any specific vocabulary and literary terms he wouldn't know, we will go through that together. For example, we had to review what irony was specifically because he wouldn't know what that is in English. I try everyday to make sure he knows what the objective is," Salinas said.
Salinas's goal is to help Chaparro in his development with English. Like with all of her other students, that is her main focus.
"I try to help him contribute to his growth with English. In terms of conversational English, because he is so quiet, and you know you don't want to start picking on kids who are quiet, that allows him to absorb kind of what's going on. I can tell week by week how much better his conversational English is getting. I would say, academically, Ismael doesn't need any help. If he had been here for more than 13 weeks, if he would have been here for, let's say two years, he would be in my AP English class. He wouldn't just be in a general english class. So next year, he will be taking Advanced English," Salinas said.
Along with Salinas, Caples has the same goal for Chaparro.
"My main objective with Ismael is to help him to pass his other classes and to work on new and more complex vocabulary," Caples said.
Along with his growth in vocabulary and literature, Chaparro has also grown within the school community. He is currently on the Bellevue West Boys Varsity Soccer team.
"In my free time I like playing soccer. It's easy to get along with people because most people on the team are Mexican and Hispanic and I can talk to them [more] easily than other people. I like the teams and being able to play," Chaparro said.
Chaparro plans on spending his senior year at Bellevue West, continuing his relationships with teachers and friends, and pursuing his passion for soccer.
"Any time you have a new student, you have to get to know them and find out what their strengths are and what they need help with. There weren't any real challenges," Caples said. "The difference is crazy. He picks up vocabulary like he is a sponge. He read "The Great Gatsby" and now he is using all that language. His English is improving everyday. When he first came he didn't know anybody and now he's on the soccer team and has a ton of friends. He has really grown and has bettered himself but has helped better other people."
Sophia VanFosson
Reporter