Bellevue West activities director Kevin Broderick retires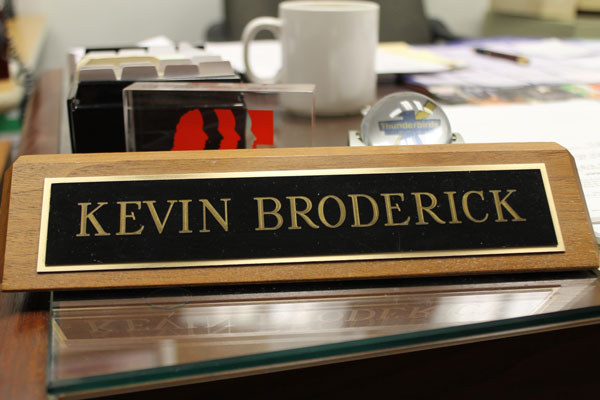 [flagallery gid=34]
Photos by Chloe Brim
After 17 years of being the activities director at Bellevue West High school, Kevin Broderick has decided to retire. Whether he was cheering on a sports team or sending out memos for the upcoming pep rally, Broderick affected everyone he worked with.
"I'm going to really miss him. I've been working with him for 14 years, as long as I've been here. I'm happy for him, but I'm going to miss him," scholarship coordinator Kathie Britten said.
Britten did not meet Broderick on her first day of work, however. Broderick is actually Britten's brother-in-law. Because of Broderick's busy schedule, Britten mainly sees him at work.
"He's been a lot of fun to work with. I see him more at work than I do outside of work. He was always up here at school during our family get-togethers so working together gave me a chance to see him," Britten said.
Family members aside, Broderick also made a connection working with his secretary Stacy Vaughn.
"He is such a great man. He has such a great work ethic and is always very appreciative of me. That is something I have taken to heart and am very grateful for. A lot of times this type of work goes unnoticed and he is great about being grateful for me," Vaughn said.
In his time working here, Broderick admits he has been greatly affected by the people he has worked with.
"I have had some great relationships with people and they have affected my life as I'm sure I have somehow affected theirs. In terms of the people that have most affected me, I would have to say the people I work with. They are great people," Broderick said.
Not only has Broderick created lasting friendships, he has also done a significant amount of work throughout the years of being activities director. One of his biggest accomplishments is the work he has done with the athletics department.
"I think we have established a great athletic program here at West. The biggest reason for that is the people. We have really good coaches and sponsors. They are great people, they really care about kids, they are passionate about what they are doing," Broderick said.
Senior Austin J. Moore, who started on the varsity basketball team this year feels Brodericks support was very noticeable.
"He comes to all of our games for support," Moore said.
Broderick's support of the athletics department even gave parents a sense of comfort when helping their kids figure out what activities to try in high school. Britten had no second thoughts when her children wanted to go out for Bellevue West sports and activities.
"I felt comfortable when my kids were here because I knew the athletic programs and the activities were going to be well managed and well supported," Britten said. "It just gave me even more of a reason to get my kids involved here because I knew they would not only have a good time, but they would enjoy the journey because of the fact that they were well supported."
Moore recognizes the fact that Broderick plays a big role in scheduling games for the athletic teams. This takes pressure off of the coaches and players.
"He schedules all of the games and he makes sure the team gets treated fairly when we go on the road to go play," Moore said.
Broderick has also done a great job of being honest and open with his coworkers.
"If I had to describe him in one word it would be consistent. No matter what is going on, no matter who he is working with, he is always there, he is always working hard, and you always know where you stand with him no matter what. You know that what you're getting is true," Britten said.
Broderick decided to retire because it's time for him to focus on himself and his other interests.
"For me, I guess it was just a combination of different things. I think this is just a good time for a change for the school and a change for me," Broderick said.
Broderick wishes to pursue his other interests during his retirement.
"I'm a commercial pilot and I am also an instructor so I have other interests. I'm going to do that sort of stuff, and just do some things for me. I've been so busy with everybody else in terms with working with the kids and I love that but, I just kind of felt like it was time for me," Broderick said.
Broderick stresses the fact that his work has never been to benefit himself, but the students he has worked with.
"I want to emphasize that it has never been about me, it's always been about the kids," Broderick said.
His coworkers are bittersweet about him retiring, but the obvious fact is it's for the best. They all had nothing but good things to say about him, and the work he has done throughout the years.
"I want to say congratulations and I hope all of the best for him in the future and he will be very missed. He's been probably the best boss I have ever had," Vaughn said.
Britten agrees, poking fun in a family kind of way.
"I would like to say I've enjoyed working with him, I will really miss him. There have been times where I have wanted to strangle him, but at the end of the day I would not trade the last 14 years with him and I can't imagine being at Bellevue West without him," Britten said. "I'm proud to have had the opportunity to have worked with him, and I wish him all of the best in the future."
Just like Bellevue West, Broderick will not walk out of these doors empty handed.
"My fondest memory will be the relationships I have made with the people I work with. I think watching our coaches work really hard and be passionate about working with kids, we have really been very successful," Broderick said.
Broderick leaves the staff and students with a few simple words.
"It's been a great ride. What a ride."
Chloe Brim
Features Editor