Winter Guard makes history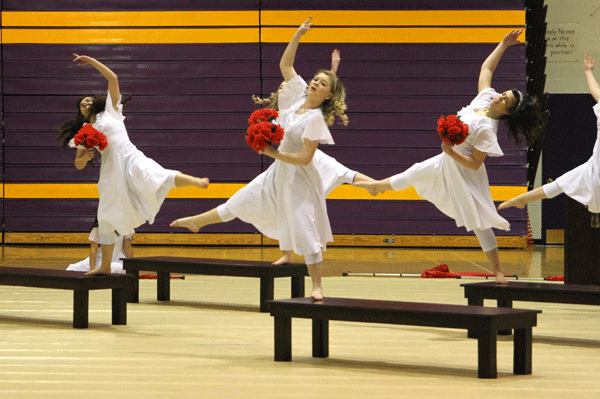 For the first time in history, Bellevue West's Winter Guard made it to the semi-finals at Winter Guard International (WGI) competition in Dayton, Ohio.
"We kind of went into it feeling good. Before the world championships they have rankings up on a website and it depends on what score you get if you can compete in the regional competition. We ranked pretty well, but it still wasn't a guarantee we would make it into semis, but we were still feeling pretty good," senior Emily Radziunas said.
More than 36,000 participants competed in the regional level and only just over 12,000 made it to the Sport of Arts World Championship.
Though Bellevue West was the only Nebraska school to make it to semifinals, the bus ride home created mixed feelings.
"It was kind of bittersweet because we were riding on the bus with all the other schools from Nebraska. It was pretty sad they didn't make it, but then again it was pretty exciting that we did," senior Abigail Sorenson said.
Much like the bus ride home, the Winter Guard's actual performance evoked many emotions as well. "Will you still love me?" was the theme of the show which conveyed the theme of loss. When a bride gets left at the altar, audience members couldn't help but get wrapped up in the show.
"Our show concept is so good this year. It's so emotional and we perform it so emotionally. We can get the audience crying; that is what makes us unique," Sorensen said.
The show began to come together in November. From picking out music to choreographing dance moves, the new show was born. The music consisted of Lana Del Rey's "Young and Beautiful." This year's show, however, was set up to benefit the teams.
"We definitely had a better show this year. It was about a wedding and most of the girls are better at lyrical dancing so it was set up for them to be more successful. We had a lot of seniors as well which helped a lot," Band Advisor Kyle Haugen said.
Though it took hours of practice and critical thinking to put this year's show together, it ran smoother compared to last years.
"This year our show has been a lot more relaxed. Last year putting the show together was really crazy. It was a mess because we had so many props to set up," Radziunas said.
Bellevue West made history when it became the only school from Nebraska to ever make it to the semi-finals, but it took hard work and dedication to really get the Winter Guard program running in order to keep Color Guard busy.
"I started it for the marching band. The players that play instruments play wind instruments. After marching band they play in class for the rest of the year so they get training," Haugen said. "When I got here, the color guard didn't do anything in the winter. They really needed something to keep them spinning and training throughout the winter and this was a good opportunity for them to do that. I think a lot of them enjoy it too."
Before Haugen started teaching here at West in 2007, the school lacked a winter guard leaving Nebraska behind other developing teams. West's Winter Guard started in 2010.
"We are a younger circuit. There has been some areas of the country that have been doing winterguard since the seventies or eighties so we are a little bit behind," Haugen said.
Though Winter Guard at Bellevue West started later than most schools, it eventually worked its way to the top.
"We kind of felt like we made history," Sorensen said.
Ashley Quintela
Editor in chief and Hitting the Runway Blogger