Team leadership falls on the class of 2015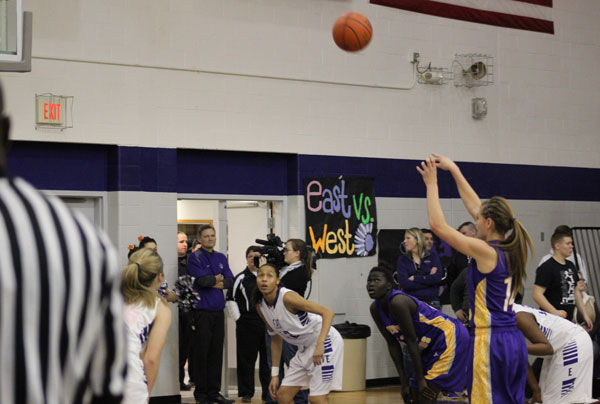 Every year coaches are given the challenge of molding a new team to make them successful. As seniors graduate high school and leave their athletic teams, juniors are given the opportunity to take on leadership roles.
Senior Madi Braun took on a leadership role for the varsity girls basketball team this season.
"I knew that I was going to be a leader this year, so I tried preparing as much as I could for a spot this last season. I was always trusted by my team to have the ball in vital moments of the game, along with playing different positions I was not used to playing. Always having a positive attitude and an open mind on and off the court was also a huge part in being a leader," Braun said.
Not only is it hard to leave your team, it is going to be difficult to fill the shoes of previous leaders. After a year of following orders, it's the juniors turn to set the standard.
"It's sad and it makes me anxious to see what is going to happen next year when the seniors leave. It will be interesting to see how everything plays out," junior Katie Imig said.
As a coach, it can be a challenge getting younger students to step up. Varsity head football coach Mike Huffman accepts this challenge with open arms.
"Juniors have to step it up both mentally and physically. The seniors last year put us on the map. We still have a lot of really good players coming back so I'm sure we will stay on the map. We have the ability, we just have to have the want to succeed," Huffman said.
Girls varsity basketball coach Marc Kruger creates bonds with his players as they grow throughout their high school careers.
"It's always hard saying goodbye to seniors every year because the kids who have been around the longest, you've spent a lot of time with them are leaving. It's two things: you are happy for them and what they accomplished but you are also sad to see them go," Kruger said.
Although the transition from junior to senior year may be difficult, junior Brad Cluff knows what it takes to mold a team.
"We have to make sure we all work hard during the off season and are prepared when the season starts. Plus we need to make sure we work hard at practice, have good focus, and have the right mentality," Cluff said. "I'll try to be there for all of the younger guys and make sure they know what they need to do,"
While juniors are anxious about stepping up for the team, senior Austin Moore is sad he has to leave his leadership behind.
"It's sad leaving my team because it's your last go-around with them. Every game matters from this point on. I think it's good for the juniors because it's time for them to step up and be the leaders we were," Moore said.
Braun agrees with Moore, as she has been playing with her team for a significant amount of time.
"It is definitely going to be hard to leave. I have been playing with some of the girls since the 6th grade. There is a special bond between all of us that can never be broken on and off the court," Braun said.
Chloe Brim
Features Editor