Column leads to chaos at the East vs. West basketball game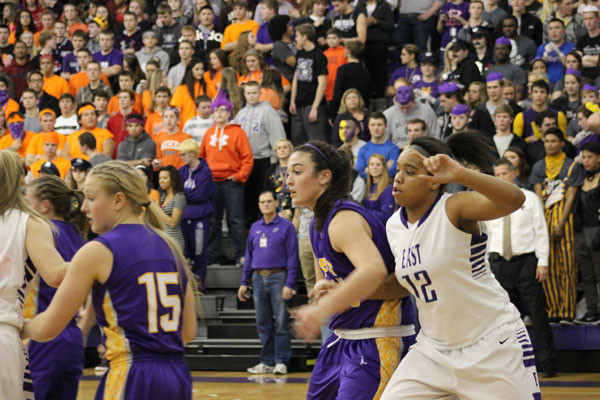 Prior to the annual East vs. West basketball game, Twitter page @NotBellevueEast sent out a tweet that read "East vs. West is this Friday. Be on your best behavior because you never know where they have undercover newspaper critiques."
This was in reference to the column senior Ashley Quintela wrote about Bellevue East when each school's newspaper staff exchanged students for a day. Quintela went to East and followed junior Elic Chisam and then wrote about her experience in The West Wind. Bellevue East student junior Desiree Wilson came to Bellevue West and followed senior Nick Wilkinson around for a day.
Quintela's column was met with an overtly negative reaction from East students who felt that Quintela was attacking their school.
"I honestly didn't even think that anyone at East was going to care about what I said, but
they all got really upset," Quintela said.
Before Quintela's column was approved to go in the newspaper principal Kevin Rohlfs had to read and sign off on it.
"I thought it was a good column and I didn't realize they were going to be offended at the
couple little things she commented [on], because the things she didn't like were the walls and that the room was cold. At that time we had hot and cold rooms too," Rohlfs said.
Bellevue East newspaper adviser Stephenie Conley also said that she when she had first read Quintela's column she hadn't thought that there was anything that controversial or shocking about it.
"I thought Ashley [Quintela] had some valid points. Our school is often very cold and I regularly have to wear a jacket in my room because of that reason," Conley said. "However, while I may not agree with everything in her article, I fully support her First Amendment rights to free speech and press."
Quintela said that she received many messages on Facebook from East
students asking her why she would've written such a negative column about their school.
Quintela said that one time at Michaels, where she worked, a girl came through her line and mentioned that someone had written a negative article about East in the paper. When Quintela told her that she was the girl who had written the article the girl proceeded to tell her that people didn't like her. However, Quintela was unperturbed about the incident.
"I thought it was the coolest thing ever," Quintela said. "I think if you can write something that causes this much emotion it's really exciting and it's good that the column received this much attention. I totally still support everything I said."
Conley said that she had students from other classes come to her asking her if they could write letters to the editor at the West Wind. She said that this whole experience has taught her a lot about school pride.
"The reactions from students at East have to do with their pride. I doubt they were even thinking about journalistic freedom. Ashley should be proud of the fact that not only did she exercise her freedom of expression, but also people read her writing and responded," Conley said. "I think her article was one of the most read articles in the Tom Tom this year."
The negative reaction even spiraled over into a Twitter page entitled NotBellevueEast being created which poked fun at Quintela's comments about East not having any decorative walls and her granola bar being cold.
Bellevue West newspaper adviser Julie Rowse said that she thought the column reflected Quintela's pride of being a T-Bird.
"I was impressed with how proud it made her to be a student at Bellevue West. A lot of students like to complain about the situation they are in. They have this idea that if only they went to the other school things would be better," Rowse said.
Rowse said that she felt a major reason for the backlash against Quintela's comments was the fact that it was someone from another school making these comments.
"I'm sure kids at East complain about a lot of the same stuff that Ashley wrote about in her column, but since it was an outsider writing about it they were defensive," Rowse said. "On a positive side, it does prove that the students who go to East are very proud of their school and the fact that they are Chieftains."
Despite the fact that the columns were first published in November, the sentiment toward the column from East students still remained once the the East vs. West basketball game rolled around. At the game some of East's student body dressed up as prisoners in response to Quintela's comment that East felt like a prison. Bellevue West senior Katie Begley and Wilkinson responded by dressing up as police officers and carrying a sign that read 'You have to write to remain silent' along with a sign that was made to look like a granola bar.
"We had to defend Ashley Quintela's honor," Begley said of the decision her and Wilkinson made to show up to the game as police officers.
At one point, East students even began to throw granola bars at West's student section.
"I didn't appreciate them throwing granola bars at us. I feel like that should've been dealt with," Rohlfs said.
Rohlfs even said that the throwing of the granola bars could've lead to a dangerous situation.
"If you're throwing granola bars with peanuts in them and someone has a peanut allergy you could be potentially dealing with a life-threatening issue," Rohlfs said. "It's just one of those things that seemed like it didn't need to be as big as they made it out to be. It seemed kind of silly to be still reflecting back on that column."
Quintela said that she was happy that East's student section had decided to dress up as prisoners.
"I was honored that one of the biggest sporting events in our school was revolved around my column," Quintela said.
Quintela was not able to attend the game since she had to work, but said that she was happy that she had her two best friends were there representing her in a way.
"I just had to kind of chuckle at it," Rohlfs said.
Either way, the fallout from Quintela's column and the East vs. West basketball game prove that the rivalry between the two schools is very much alive.'
Jason Wisenbaker
Copy Editor