Swimming vs. Diving rivalry makes waves at West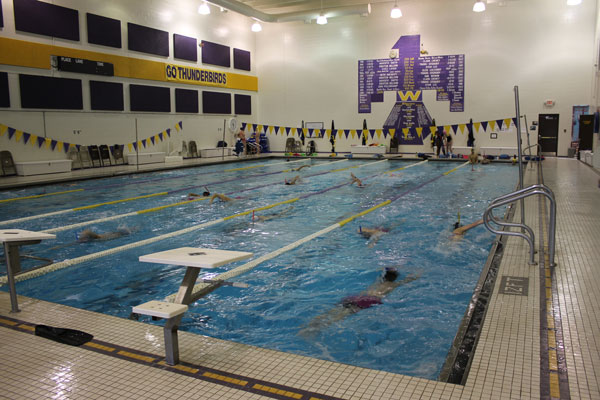 In the hidden pool at Bellevue West High School, divers and swimmers practice like any other team. Swimmers cruise the up and down the pool for two hours while divers jump in rotation off the board. All seems normal. Rivalries between the two sports, however, can be found between the lanes.
Students at West confuse swimming and diving for being one combined sports when, in fact, that's not the case. Water is the only comparison.
"The concept is entirely different. I mean we're always in the water and that's about the only similarity we have. Diving you go off a diving board, and swim we dive off of blocks then we swim," junior swimmer Kaitlyn Buresh said.
Some people don't even acknowledge the existence of a dive team, according to senior diver Nick Tristch.
"Everyone assumes that if you go to the pool after school that you're on the swim team. I've had people all four year of diving ask me 'Oh, we have a dive team?,'" Tristch said.
Both activities involve different techniques. When swimming the athletes horizontally move across the water. It tests both endurance and skill. When diving, their bodies tumble through the air and land in the water.
Swimmers practice for an hour three times a week in the morning and then two hours every day after school. Divers, on the other hand, practice Mondays, Wednesdays and Thursdays at West and Tuesdays and Thursdays at Airborne Academy in Ralston.
"We have about double the practice," senior swimmer Cassie Treu said.
Buresh sarcastically joked about the alleged rivalry.
"They always get out of practice more than we do and they always get out of school earlier than we do so, deep down inside we hate them a little bit," Buresh said.
Their duals (competing with only one other team) are on the same day. The divers go first, and then immediately after the swimmers start their meet. Invitationals, however, are on separate days.
Their scoring system is also different.
"They do a system of points which depends on how well you do the dive and the splash. For swim you get a certain amount of points for your place. So for first place lets say you get 15 points and then it will go down until tenth place," Treu said.
In the eyes of the state, however, the scores are dependent on each other.
"In the state of Nebraska, at meets and competitions their scores are combined. They're slightly different obviously. Swimming is based on time and diving is based on a subjective score, but the competition points are combined in one score in the state," swim coach Peg Speer said.
Both teams have gotten more athletes to join the sports. This year, the diving team increased by a few students from last year. The swim team has always had overcrowding issues with lanes.
Spear has been coaching the swimming team for 21 years, and noticed an increase of swimmers throughout the years.
"It's crowded. We have a large team this year of close to fifty swimmers and that includes six divers. We just adjust training to make [practice] happen," Spear said.
The dive team and swim team practice at the same time after school. The same pool, however, is used for both teams. They spread one lane apart wide enough for the dive team to splash into. As a result, one lane is made smaller creating overcrowding for the swimmers.
"Sometimes there's already ten people in my lane, so then you have to split up another lane of swimmers into five lanes instead of six. That could be a pain," Treu said.
According to swimmers, swimming is more difficult than diving.
"It is more difficult. You have to have good gymnastic skills and balance to dive, but swimming is 10-times more endurance and technique and you have to have speed," Buresh said.
Others disagree.
"I think they're both difficult in different ways. I think swimming is probably harder physically, but diving is harder getting all your muscles to coordinate in the right places and doing the right flips," Treu said.
Swimming and diving are two very different sports with athletes competing with a very different set of skills. Just like soccer and track, they practice in the same area but aren't the same.
Katie Allen
Reporter