Student athletes sign for their futures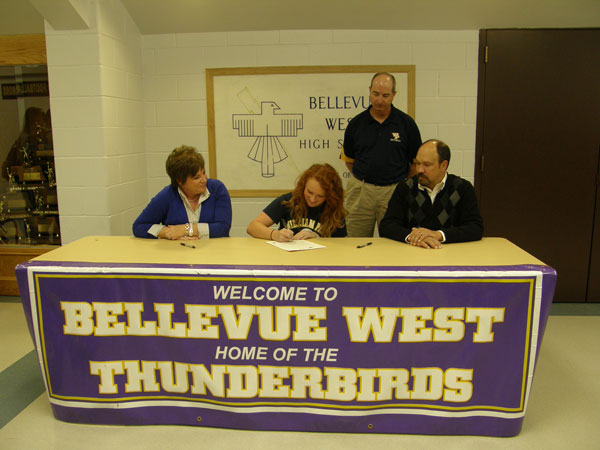 As high school comes to a close, student athletes begin to think about sports outside of Bellevue West. Offers get thrown every which way at athletes promising scholarships, benefits, and a great future. Once a student decides to commit to a college, Bellevue West hosts a signing for them to officially connect them with their future school.
"When students finally decide where they are going to go they will come to me and tell me they would like to do a signing here at school. We will set it up in the South gym lobby where friends and family can be there, and we take pictures," activities director Kevin Broderick said.
The signing process itself is simple, but the decision making and work that goes on behind the scenes isn't as easy. First, students have to get colleges to look at them by performing their best at every event. Once colleges become interested in them they have to make the decision of what college best fits them.
"My select team went to a bunch of college exposure tournaments and I went to different softball camps all around to get my name out to colleges," senior Kerrigan Flynn said.
Flynn has known she wanted to sign with William Penn University since her junior year. She will be playing softball with them in the fall semester.
"I chose my school because I went to a few softball camps and I loved the coach's style because it really fit with all that I wanted in a coach. Then I went on a tour of the school and I loved everything about it. It also had an awesome program for my major," Flynn said.
Not only is a signing a good memory, the scholarship money that comes with it is beneficial. Broderick has realized this as he has attended almost every signing.
"Obviously the students are benefited because they are going to be getting scholarship money. The signing is a good memory and it is nice for the family, the student, and their friends to celebrate the fact that they got a scholarship to the college of their choice, and they still get to play athletics outside of high school," Broderick said.
Senior Michael Gilbert signed with Wayne State College back in December 2013 for baseball. Like Flynn, he also felt that his college would be a good fit for his major.
"I decided to sign with Wayne because it's a teaching college and that is what I want to do so it seemed like a good fit for me," Gilbert said.
For Gilbert, signing with a college gave him a chance to relax, and not worry about college throughout his whole senior year.
"It was a big relief when I signed for college. Knowing where I was going to school was something I wanted to get done as fast as possible," Gilbert said.
The signing process itself was a memory for these young athletes, but it was also accompanied by a surreal feeling.
"The signing process, to be honest, it was so weird to have so many people staring at me, but it was also nice knowing that all the people that were there were the ones that have always supported me throughout the years. Once I signed the paper I was all smiles," Flynn said.
These student athletes have made it far because of the support they have gotten throughout their high school careers. Family members and coaches of Gilbert and Flynn cheered them on through every practice, game, and even their signings.
"My biggest supporters were my parents and my select coach Tony Larry. My parents provided everything for me to have all of the opportunities that I do. Tony was a big support because he has been my coach for so many years, and has taught me all that I know," Flynn said.
Gilbert's family played a big part in helping him with the process of signing to a college as well.
"My biggest supporters were my parents who were there through the whole recruiting process. They helped me decide where I wanted to go, they were very supportive," Gilbert said.
Broderick has also extended a helping hand by offering advice to student athletes. It is important for them to pick a school that will be the most beneficial.
"My suggestion to athletes is make sure you're going to a college you really want to go to, not because of a sport or because someone offered you money. You really need to go get an education at the school of your choice. Choose a school that best fits you and your career aspirations," Broderick said.
Signing to a college does a lot for students, but it's not always clear what signing to a college actually means to them.
"Signing to a college shows that I have accomplished something through high school and that I have proven myself. It also shows that I can play at a collegiate level better than most high school kids can," Gilbert said.
After all of the hard work student athletes put in at practice and games, signing to a college makes them continue to use the same work ethic as they become freshmen in college.
"To me signing means that the future is just around the corner and now I have to start planning for the rest of my life," Flynn said.
Chloe Brim
Features Editor