Thunderbirds dominate Chieftains on the court once again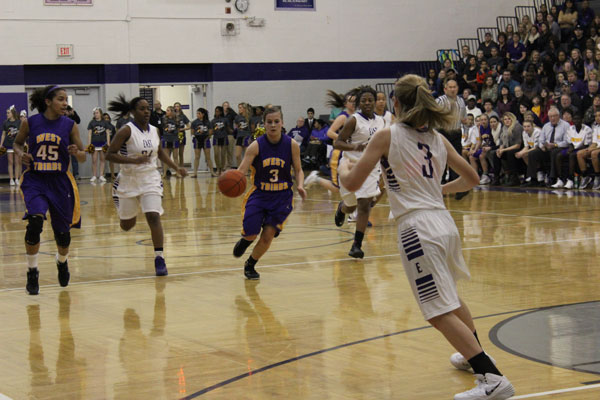 It was just another day at the office for the girls and boys Thunderbird basketball teams, as they traveled to Bellevue East Friday, Jan. 17. Senior Madi Braun contributed one-third of West's total points in the girls' game, with 23, as the T-birds won 69-59. Junior Katie Imig also scored 13 points, followed by senior Kate Liveringhouse and sophomore Chloe Akin-Otiko with 10 points apiece.
The boys, though, took two quarters to get up to full-speed. East led 9-8 at the end of the first quarter, but as the night went on West's pace improved. The boys from both teams shared the lead throughout the fourth quarter but West ended with 70-50 victory over Bellevue East.
The girls' win over East took their season record to 14-1, while the boys improved to 11-2.
Bellevue West is 47-20 in varsity sports against cross-town rival Bellevue East since 2004, according to MaxPreps.com.For photos of Friday's game click here.
Nick Wilkinson
Sports Editor