Looking behind Britten's desk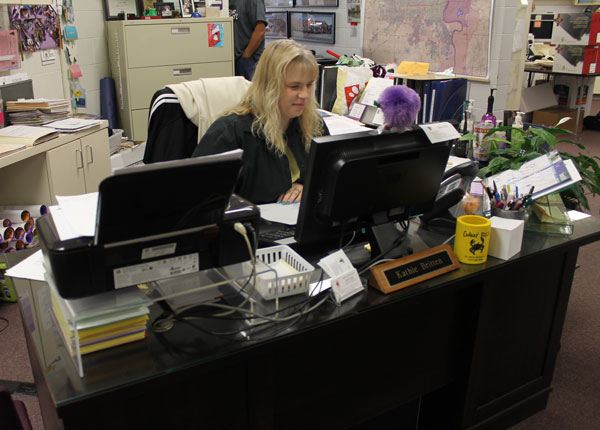 Most students know the role of the principal, the teachers and the custodians. What most students don't know, however, is what goes on behind the desk of scholarship coordinator Kathie Britten.
As the phone on her desk rings off the hook, Britten discusses scholarship opportunities with a student before the first bell rings. While sending out transcripts, Britten frantically researches colleges for students who don't know where to start.
"I am usually answering phones, helping students with scholarships, transcripts, student portal, answering questions. That kind of thing," Britten said.
Britten has been working at Bellevue West High School for 14 years. Her job requires her to be at the school year long, so she doesn't have a summer vacation like a majority of the staff.
"My main responsibilities are deadlines for scholarships, also helping students with college searches and finding colleges for them. On top of that I do student and parent portal as well as fill in for the principal's secretary when she is absent," Britten said. "During the summer I send out transcripts for seniors who have graduated, and help around the office."
Searching for a college can be stressful, so Britten tries to make the process as simple as possible. Because college is the primary focus, her position is centered around working with the current graduating class.
"The majority of my time is spent with seniors," Britten said.
The time Britten has spent with seniors made them think about the future in a way they hadn't before, according to senior Courtney Bybee.
"At first she made me nervous as she was helping me realize just how much college was going to cost in the long run if I didn't start applying for scholarships, but after a while she helped me out and put me at ease by showing me all of the different options I have," Bybee said.
Unlike most careers, Britten received the opportunity to mold her job into what she wanted it to be. Using students as a focus, she found a passion in helping others.
"I started out part time and fell into the opportunity. It was a new position and I got to design it how I wanted," Britten said. "I quickly found out I loved working with students, so I made it very student based. It made me realize I had a passion for something I didn't know I had a passion for.
One of the biggest scholarships Britten does during the year is the Bellevue Comprehensive Scholarship. This scholarship is offered to Bellevue West students only, and it is Britten's job to make students aware of it.
"It's an awesome opportunity because students are only competing against each other. Usually we have about 100-120 students apply each year and probably about half of those would get a scholarship of some sort," Britten said.
The basic requirements range from regular graduation requirements to being at the top of the senior class academically.
"I promote this by going to every senior english class and talking to the students to show them how it works. I also email it to parents and students, put it on the website, that kind of thing," Britten said.
For Britten, helping seniors get into college is crucial.
"My favorite part is when students get into the college of their choice with a scholarship, and they come to me and tell me about it," Britten said.
The students Britten works with feel much better about their future after they have a meeting with her.
"She helped me a lot in finding numerous scholarships I could easily do. All of her advice did end up being highly beneficial to me," Bybee said.
Although highly beneficial, talking about college can be a lot for a student to take in.
"I was overwhelmed at first because she gave me so much information. But she narrowed it down, and it helped me as I was looking for colleges," senior Michaela Viloria said. "Mrs. Britten is very nice and she tries her best to understand your situation and set things up."
Once her job with the previous graduating class is complete, Britten encounters many surprise visitors during the holiday season.
"It's my favorite time of year because the graduates come back and I get to see how they have changed and grown up," Britten said.
As college is a scary time for students, Bybee is happy to have Britten on her side.
"Mrs. Britten is super sweet and nice. She's there to help everybody. What I like about her is the fact that she is not afraid to be upfront and realistic about things. She really opened my eyes to the parts of college I had just shrugged off before," Bybee said.
Getting the opportunity to work with students on a daily basis is something Britten loves to do. The work she accomplishes throughout each school year has given Bellevue West students a sense of security.
"This job is rewarding, more so than I ever thought it would be," Britten said.
Chloe Brim
Features Editor