Step is more than "just a dance"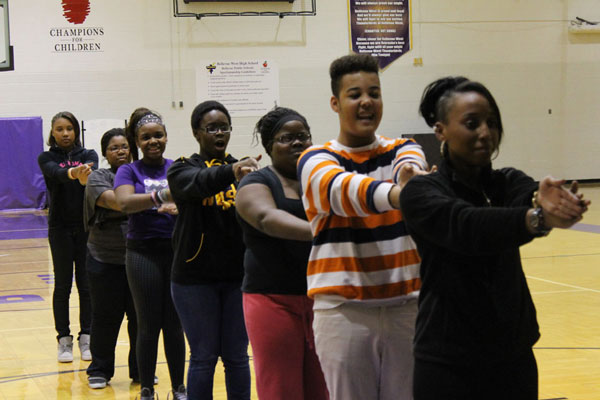 Their stomps, chants and claps erupted in an orchestrated rhythm that reverberated throughout the Thunderdome. They didn't have expensive equipment or frilly uniforms; instead, they brought with them culture, blending the traditions, history and movements of long ago ancestors with the modern community at Bellevue West.
Step, with its rhythmic, percussive body movements and dancing, is an art form derived from Africa that is practiced by high schools, colleges and dance organizations across the nation.
After clearing the idea with assistant principal Dr. Larry Murry, sophomore Tarriona Harris and Bellevue East transfer student sophomore Da'Jon Skaggs founded Bellevue West's step team around the third week of school.
"[Da'Jon]'s been incorporating one or two steps to help us just learn; we get some things off YouTube and compile them together," junior Jasmine Rosemond said.
Fifteen students tried out during a three day audition session. The team is coached by Bellevue West paraprofessional Dawn Sanchez and cafeteria employee Azelia Gillum, and the team currently has around 10 members.
"Dr. Murry asked me to be a sponsor for the step team, and before I even started working here I came here part time and taught zumba to the freshman girls for gym; he knew my background," Sanchez said.
Sanchez visited Africa, lived in Japan and Kansas, and currently teaches dance and zumba. Sanchez brings years of instruction and personal dedication to the step squad.
"I taught modern dance, African, step; I tried out for Alvin Ailey when I was 19 in New York, tried out for M.C. Hammer," Sanchez said. "I got a chance to meet him, and to talk to him; I had pizza with M.C. Hammer.
"Alvin Ailey began with underprivileged students and teens, giving them something to grab onto: goals. They could travel all over the world; it's like the Lion King times ten. A lot of their lyrical dances are more spiritual, more biblical based. And I tried out and I actually got called back twice for that too; I didn't have the height," Sanchez said. "It's okay though, I loved the fact I got that experience."