"Selfies" gives users originality on social media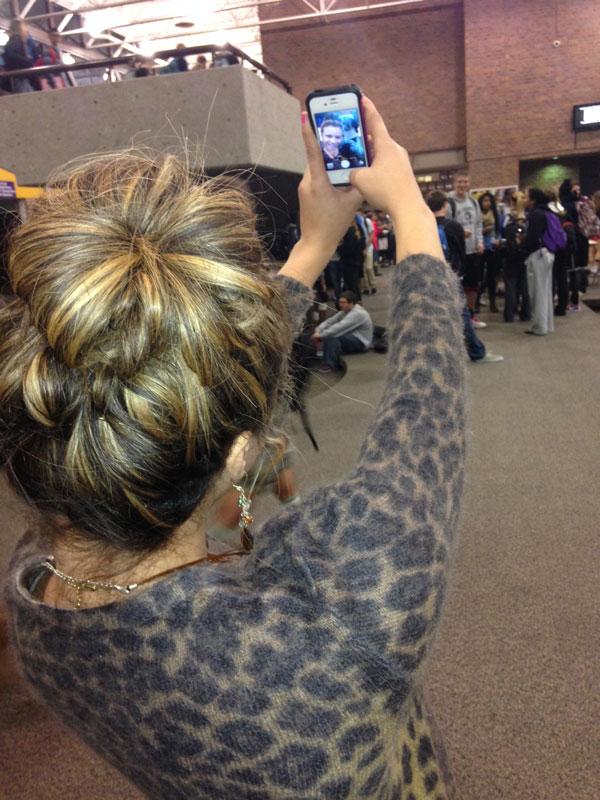 Social media has erupted the past few years with teenagers trying their hardest to express themselves in every way possible. Part of this self expression is through taking pictures of themselves and posting it online for positive feedback. These pictures, otherwise known as "selfies" have become a sort of art form in the world of social media.
"First you have to look cute; you can't just roll out of bed and take a selfie. Next, you have to get the perfect lighting for the picture. After that, you have to find the right angle, then it's all about the caption," senior Jay Laravie said.
Selfies give teenagers a way to portray themselves to others while they feel and look their very best. In order to take a selfie and be proud of it, there has to be certain circumstances that will make for a good picture according to Laravie and senior Edwin Mendoza. Selfies are meant to show what each person looks like.
"For guys, you either have to have a tight shirt or something to show your muscles. And you have to smile. Girls like it when you smile," Mendoza said.
Taking a selfie not only gives teenagers something new to post, it gives them an opportunity to update their profiles with recent photos. A profile picture from the seventh grade, wouldn't reflect what a user really looks like.
"I think selfies are good in moderation, because I think it is good how they show you growing up. It's cool that every new picture is different," senior Courtney Nunes said.
Finding good lighting and angles for a picture is important, but according Laravie editing a picture is just as important. Social media sites such as Instagram, Twitter and Facebook give users the option of adding special "filters" to any photo posted.
"If you don't do it to the extreme, using filters is okay," Laravie said.
Although selfies can boost one person's esteem, they could annoy others, such as junior Harlee Sine, in the process.
"Why would you take selfies? It's just for people to seek attention. It's just a cry for help," Sine said.
According to Sine, the pictures begin to get annoying when there is no limit as to how many are posted during the day.
"I think selfies are creepy, but at the same time they are necessary. It helps you find out who the person is online," Sine said.
Teenagers such as Laravie and Nunes, began taking selfies since the day they got a cell phone. At first the pictures were a way of self expression, but has now morphed into more of an art form.
"I started taking selfies in seventh grade. I would do the peace sign, duck lipped selfies," Laravie said.
Middle school is normally when young teenagers start to post pictures online for attention.
"Seventh grade we would take pictures with our tongues sticking out and stuff. Those were the days," Nunes said.
Chloe Brim
Features Editor