Ethiopian food culture shocks Diversity Club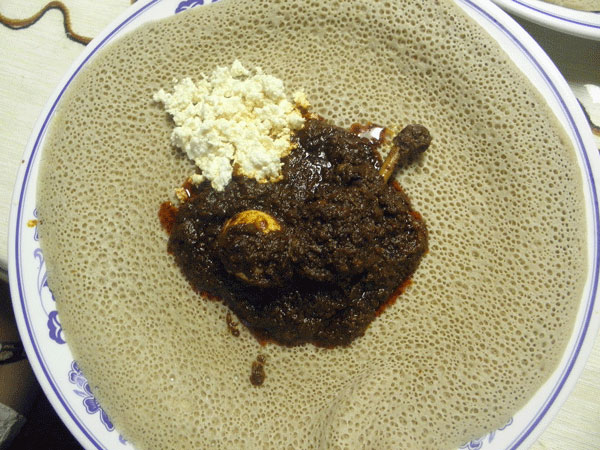 Each month Diversity Club goes out to an ethnic restaurant. This month, we agreed on trying Ethiopian food. At first, I was intrigued at the thought of eating Ethiopian food. I love trying different foods from different cultures, but unfortunately, I wasn't in for a pleasant surprise. The restaurant Lalibela (located on 422 Cass Street) didn't have much to offer.
Maybe it's just me, but I think if I'm eating at an exotic restaurant, I should be dazzled with some cultural decorations. When it came to decor, Lalibela fell flat. The walls were bare and a little tv sat in the corner of the room. I expected a little more, but was vastly disappointed.
Though appearance isn't everything, the service and food is, however. Our waitress was polite but showed no interest in suggesting special menu items to us. Since it was my first time there, that would have been helpful. Maybe if I had been assisted, I wouldn't have regretted ordering what I did.
Most of the items sounded the same. Lots of chicken and beef was offered with lettuce served on a injera which is a spongy sourdough flatbread. The texture was fun to touch but wasn't good enough to eat. It was a little sticky and definitely sour, leaving a strange aftertaste. I ordered Doro Wat. This was listed as a national Ethiopian favorite. It consisted of a chicken leg and hard boiled egg smothered in berbere based stew. Berbere is a combination of many different spices such as chili peppers, garlic, ginger and dried basil.
I wasn't quite sure why this was considered a national favorite. The stew felt slimy and was over spiced. It tasted as though the cooks poured in every type of spice they had and called it good. I could barely eat my food due to the horrific after taste that dwelled in my mouth.
One unique aspect of the restaurant was that there were no utensils. I enjoyed this because it's not something you see everyday, making it a fun experience. Sure it was a little messy, but it was my favorite part.
It's safe to say I won't be a regular customer or be returning anytime soon. The server offered me a box at the sight of my full plate but I quickly declined. It was a waste of $13. Maybe if the waitress assisted me a tad more I wouldn't have gone home and eaten dinner.
Ashley Quintela
Editor-in-Chief