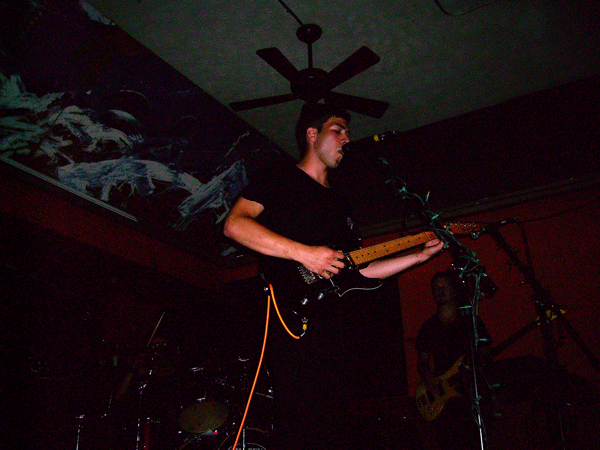 Darkness enveloped the room, casting shadows on the faces of those waiting. The warm smell of pizza mingled with sweat as eager chatter peppered the air. A band was about to perform one final show, and those in the crowd were on the edge of their seats.
A door behind the stage swung open, revealing three young musicians. The artists grabbed their equipment and the familiar hum of cranked up amplifiers saturated the expectant audience. The lights flicked on, cheering erupted, and the opening drum riff from "Leicester" rang out as the final show for Square1 began.
Performing in front of an audience of over 100 people, Square1 played their swan song on Friday night, Aug. 9 at the Pizza Shoppe Collective. With Cameron Gilinsky, 20, on bass and piano, Garrett Sacco, 17, on drums and Bellevue West graduate Alec Koukol, 18, on vocals and guitar, the trio played for friends, family and former teachers alike.
"I thought it was a great, great last show. And it's sad to end it all but it went really well and it was a ton of fun," Sacco said.
During a slower section in the set, the band turned off the lights again, only to illuminate their instruments, amplifiers and the stage with glowing Christmas lights.
"The lights were all Alec's idea. We had two slower songs in the set and thought lights would make it a bit better," Sacco said.
After more than an hour, Square1 wrapped up their 14 song performance with "Just Enough," and concluded three years' worth of memories and experiences.
"Being able to really just get out on stage and put my heart and soul into some of this stuff has just been unbelievable," Koukol said.
Several of the songs in the set were from their second album, Alien Insurance. Whereas Bird's Eye View was available for around $10 on iTunes, their latest work is free to download at their website, Square1music.com.
Koukol emphasized the effort was about music, not profit.
"Square1 isn't doing this to make any money. It's more of our goal to reach the audiences that we want to reach and really connect on a personal level with the people we are sharing our music with," Koukol said shortly after the May 14 release of Alien Insurance.
Recorded in Koukol's basement, Alien Insurance was the result of months of effort from Square1.
"We recorded two albums, and that was so much work … I didn't think when I originally signed up to do it that I'd be putting in that much time, eight hour days trying to get one song the way you want it. It's difficult," said Gilinsky.
While the group learned plenty about music throughout the years, the members of Square1 also learned some life lessons along the way.
"Sometimes we get at each others' throats, but that's how humans work, and that's what I've learned. People have their own thoughts and have their own opinions, but the people who can push those aside and work through those kinds of differences make a stronger group," Koukol said.
Although the band invested two albums' worth of time in the studio, Square1 split up after Koukol departed for Belmont University in Nashville, Tennessee.
"We may regroup in summers or on breaks depending on what's going on in our lives at that point, but as far as I can see, [we're going to] just kind of call it quits," said Koukol.
In the end, Gilinsky remains hopeful about the future of Square1.
"I'm up for anything, I'm sure he [Koukol] is too … he just wants to put the band to rest for now. But I know that in the near future it will come creeping back to him and he'll miss it. I think there will be more Square1 in the future," said Gilinsky.
Grant Harrison
Commentary Editor