Nominees excited to see who gets crowned Mr. Bellevue West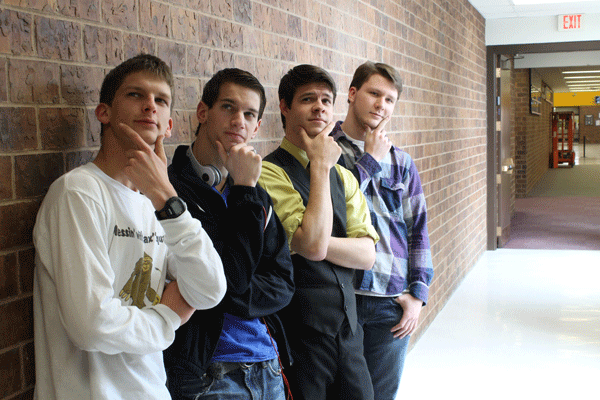 On Mar. 15 at 7 p.m., Sophomore Senate will host the Mr. Bellevue West contest starring senior boys. They will compete in formal wear, talent, winter wear and an interview portion and be scored by judges Karissa Willams, the owner of Suit Up Tuxedo, Bellevue Public Schools Superintendent Frank Harwood and officer Justin Larson.
"The student body nominated senior males that they thought would be pretty good for this. And then from the nominations I held a meeting with all the men who are nominated and then about ten of them turned in applications," Sophomore Senate Adviser Jessica Frank said.
Of the ten that turned in their application, seniors Jeremy Morton, Daniel Moses, Justin Thorstad, Andy McDill, Drew Shifter, Matt Kruger, Harvey York and Matt Pettit were available to compete in Mr. Bellevue West.
"I am really excited that I got nominated," McDill said.
McDill's excitement about being nominated is shared by the other nominees, including Morton, who feels more than excitement at his nomination.
"I feel really honored that people would nominate me. It felt kind of cool that people were telling me that I should be nominated and I was like, 'I have no idea what you're talking about.' But it's an honor," Morton said.
York and Moses agree that it's an honor but also recognize they have common trend with their voting base.
"It's kind of weird being nominated by mostly sophomores," Moses said.
Moses along with York believes that the students nominating them were primarily seniors as opposed to students in other classes. The nomination process required students to fill out a form stating their name and class along with the name of who they nominated. York acknowledges the trend but doesn't mind.
Kruger, on the other hand, was nominated mostly by students in his grade. Kruger also thinks because he wasn't nominated for prom king he should be Mr. Bellevue West.
Kruger said.
Meanwhile, York's reasoning is more focused on the prize.
"[I should be Mr. Bellevue West ] so I can get the free prom package," York said.
Moses is looking forward to it not for the individual competitions but for the challenge.
"[I look forward to] the competition, the competitive spirit," Moses said.
Unlike Moses, Morton sees Mr. Bellevue West as more of a chance to have fun and be part of the school then compete.
"I'm not thinking of this as a competition per se but more as an event to partake in," Morton said.
Morton and McDill are looking forward to the talent portion the most. The talent competition will range from musical acts to dramatic performances. Sophomore senate vice president Rachel Maloy also looks forward to the talent portion.
"I'm really excited because I know some of the top secret talents and I think it's going to be really exciting to see the boys get up there," Maloy said.
Behind the scenes, the Sophomore Senate has a lot to do as well. Along with recruiting contestants they had to advertise, make stage decorations, manage the event, pick emcees, and find sponsors.
"We don't really split anything up into groups but overall we've all been kind of helping each other out altogether as far as planning out the events," Maloy said.
The idea for Mr. Bellevue West came up as a fundraising idea and was familiar to Frank because of an event she helped with when she taught at Bryan High School. Despite the familiarity Mr. Bellevue West almost had a few problems in its conception. The first one being in the nomination process.
"We got kind of lucky because if we had more than ten we were going to have Mr. Rohlfs do a blind choice," Frank said.
Mr. Bellevue West organizers avoided another problem by opting for Winter Wear over a beach wear competition.
"Traditionally I think some schools do a beachwear or swimsuit [competition]. We were a little hesitant to do that so we decided to change it up and do a winter wear instead," Frank said.
And the last problem overcame was finding out that they couldn't charge for the event but Mr. Bellevue West will have a donation box available for anyone wishing to donate. Donations will go toward next year's prom.
Despite the problems Sophomore Senate worked through Mr. Bellevue West is the event is for senior boys.
"We reserved it for seniors for a reason for something to look forward to," Maloy said.
Even with the roadblocks Mr. Bellevue West overcame, the competition has one thing that unites the competitors which Moses cites as a reason he should become Mr. Bellevue West.
"I go to Bellevue west and I'm a mister," Moses said.
Candi Bolden
West Wind Editor-in-Chief