DECA receives membership award, competes at state
This year, Bellevue West's DECA has won the membership achievement award, which is earned by gaining 20 more members than the previous year. Bellevue West's program has 59 members currently. 
DECA, which stands for Distributive Education Clubs of America, is an international club that serves marketing and business students who want to pursue a career in the business field. There are competitions throughout the year that eventually lead up to state, where, if competitors win their category, they then get to go to nationals.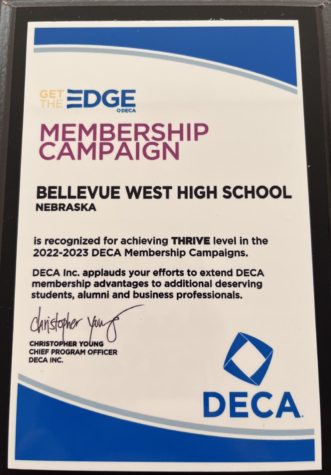 "We focus mainly on leadership," DECA advisor Jennifer Roth said. "We do a lot of different competitions that revolve around business marketing, finance, and hospitality and tourism."
Each qualifying competition has a written test and a role play scenario for the students. Each competitor gets 10 minutes of prep time for individual role plays and 30 for groups. 
"My favorite type of competition would have to be Principles of Marketing," senior Javon Jarmon said. "The role plays were an extremely fun experience and I got to see different aspects of the business world." 
While DECA and FBLA are both business clubs, they have differing qualities. 
"I see DECA as a fun and more specialized business club than FBLA," Jarmon said. "DECA seems to lean more towards marketing and projects in business whereas FBLA is everything involving business."
Seniors Ashton Swoboba, Javon Jarmon and Lou Hure, junior Jackson Anderson, and sophomore Ashley Larson all participated at state on March 16-17.
Jarmon placed 7th in state for Principles of Marketing.