Records return: Record Store Day celebrated in downtown Omaha
Setting down the arm of the record player, a worker at the Vinyl Cup flips the record to allow customers to enjoy side B of the Alabama Shakes album, "Boys & Girls." Customers walk down aisles flipping through the records trying to find the best deals. 
The cultural significance of records and record stores across the country are being recognized on Record Store Day this Saturday, April 23. According to Homer's Music & Gifts employee Liv Drobney, Record Store Day was created to celebrate indie record stores as their businesses struggled. Artists release special editions of their songs and albums to indie record stores specifically, as a way to drive traffic to local record stores.
"People come in from everywhere to visit the record stores and pick out specific titles that they want," Drobney said.
Homer's traditionally has special sales and records available specifically for Record Store Day according to Drobney.
"People line up outside around the block, starting at like 6am on record store day and then we open at 10," Drobney said. "We always have food and coffee and we're just checking people out for three solid hours."
Vinyl Cup employee Bella Tarr said that everyone can have digital streaming services on their phone but having "intention" makes records special, noting that records require more care, along with the physical action of having to flip a record to listen to different tracks.
Drobney said she finds that, especially after COVID, people are beginning to realize the significance of physical music.
"It's important to be able to hold the music and read the track listing on the back," Drobney said.
English teacher Amy Quantrille didn't grow up with a vinyl record player in her home but listened to music in other ways. While she enjoys listening to and collecting records, she said she thinks that it is important to get music wherever you can.
"I think music brings a lot of us peace, and it makes us feel less alone," Quantrille said. 
As teenagers on social media platform TikTok began to post about records, they became a trend among the younger generation. Yet, teachers and even students wonder why exactly they are becoming popular once again.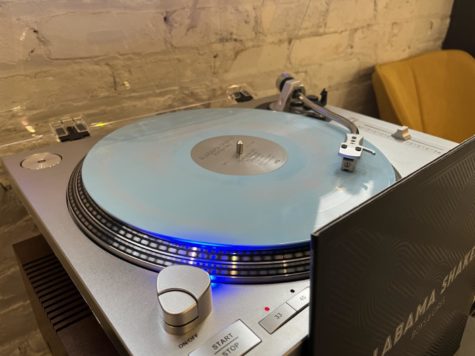 "I think that it's a nostalgia thing," Quantrille said. "I think that people aren't nostalgic for an older way of life. I mean, fashion is cyclical, right? So I think other pop culture can also be cyclical."
Quantrille said she only sees people from her generation collecting records and that being a working adult, it can be easier to afford the records that can go for over $100.
Junior Ethan Phillips collects records, and he also plays CDs in his car. But because of how "unconventional" it is to listen to CDs and records in today's society he said he doesn't think people should pick records over digital music.
"I think you should probably listen to the album before you buy it so you don't waste your money like you couldn't back in the day," Phillips said.
Quantrille said she never used to listen to a full album before buying records. By playing an entire record and listening to albums as a whole she has developed a new appreciation for the work artists put into their albums.
"I can see from the artist's perspective like that," Quantrille said. "It tells a story a lot of times, whereas before, I never saw that."
Records hold a special place in Drobney's heart, as she used to come to record stores as a kid. She said she thinks records are special and the history behind them is something worth remembering.
"Used records, even if there are scratches and clicks and skips, just shows the history." Drobney said. "It shows how long it's been around, and that it's been used, and it's been loved by other people."