Five things you might not know about Drill Team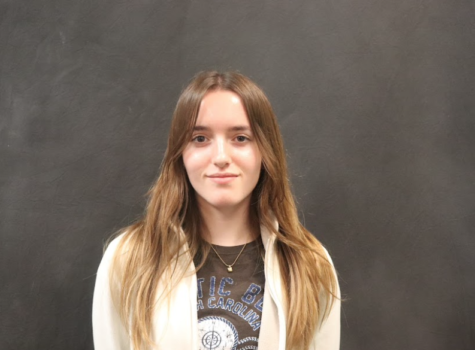 More stories from Chloe McAleer
The drill team travels throughout the Midwest to compete in regional and national competitions.
Unlike most sports which compete against schools within their local area, the drill team takes a more "national" approach by traveling throughout the Midwest. This season, the team has already visited the surrounding states of; Kansas, Iowa, and Missouri. On March 19, the team will travel to Dayton, Ohio for the National Drill Competition.
The drill team practices up to ten hours a week.
To perfect their performances, the drill team practices every morning from 6:00 a.m. to 7:30 a.m., along with two hour practices on Mondays.  According to senior Lindsey Redburn, the practices can be very rigorous when perfecting positioning, because if one cadet is in the wrong spot it can throw off the entire routine. 
The drill team wears separate uniforms compared to typical ROTC attire.
According to SMSgt. Guy Hale, the drill team wears the standard ROTC dress uniform, but substitutes their flight caps and dress shirts for wheel caps and gold ascots. They also wear a gold and purple cord which helps differentiate themselves from other schools' drill teams while also paying homage to Bellevue West. 
The drill team is separated into different categories depending on the type of drill performance.
According to Hale, the team is divided into five subsets: color guard, armed regulation, unarmed regulation, armed exhibition, and unarmed exhibition. Color guard consists of four cadets marching beside each other, the two cadets on the outside are armed with rifles, while the two cadets on the inside carry the United States and the Air Force flags. Armed regulation is when the drill team performs a predetermined routine with rifles, unarmed regulation is the same, but does not allow the use of rifles. Exhibition allows the cadets to create their own routine to perform; armed performs with rifles and unarmed without.
The drill team differentiates their performances depending on Army or Air Force drill.
When performing, the team must follow a direct set of rules on whether or not their routine is Air Force or Army drill, both of which have differences which can affect how the team is scored, according to Hale. Hale said the team must follow Air Force drill at Dayton, Ohio for nationals, and therefore must "unlearn" Army drill.
Donate to The Thunderbeat
Your donation will support the student journalists of Bellevue West Senior High School. Your contribution will allow us to purchase equipment and cover our annual website hosting costs.