Where are they now: Morgan Stough Chadwick builds career from high school journalism skills
Seven years after graduating from Bellevue West, 25-year-old Morgan Stough Chadwick has continued to work in journalism.
After graduating from West in 2013, Stough attended Wayne State College, where she majored in broadcast journalism, which later became electronic media. At Wayne State, Stough was able to work with video production.
"My final year at Wayne, I made two short films," Stough said.  "That's kind of what led me to go into film school."
While in film school, Stough produced many films, and is still in the process of producing her thesis film, "Woman in The Wall."
"It's a suspense drama based on 'The Yellow Wallpaper' by Charlotte Perkins Gilman." Stough said. "It touches on mental health and women's healthcare as well as the stigma around pregnancy and infertility and how we as women deal with that."
Given the unforeseen circumstances of COVID-19, the production of "Women in The Wall" has been slowed, but Stough said that the film will still continue through the production phase.
At Bellevue West, Stough was a driving force behind the creation of The Thunderbeat website. Stough, alongside another classmate, got the idea after attending a state journalism convention in Lincoln.
"Westside's journalism teacher had done a little seminar on doing a website, and we just thought, 'This is great, we have to do this.'" Stough said.
After returning from the convention, she brought the idea back to Bellevue West journalism advisers Julie Rowse and AE Stueve, who approved the idea.
"We had new content up almost daily, and so part of me thought that that's all it could be," Stough said.
Stough witnessed the growth of the website firsthand.
"Every year I'd come back to visit, or watch my brother at football games, and I'd go up to the press box to say hi to them and the first year I went back you were streaming with sound," Stough said, "Then, the next year I came and you guys were doing color commentary at all of the sports."
But since its creation, Stough said that seeing how The Thunderbeat website has grown has been her favorite part.
"It was just something that was so near and dear to my heart; it was like my baby," Stough said. "It's one of the most impressive things that I think I've done, with getting something like that off the ground."
Stough said that being a part of  the video yearbook staff greatly influenced her future.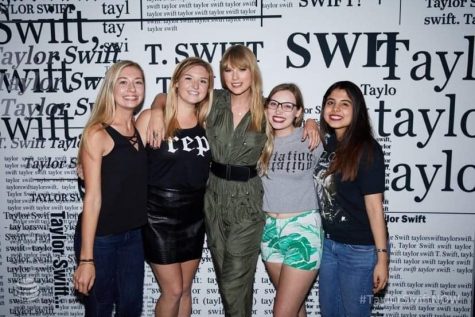 "Video Yearbook is really what led me to go into broadcast journalism, and so really that first video production class with Stueve really catapulted me into where I am today."
Stough said that being a part of high school journalism, alongside the support of the advisers, gave her much of the confidence she has today.
"Rowse and Stueve are both teachers who really value who you are as a person and not just as a student," Stough said. "And so they both really built up my confidence and they were so encouraging."
Stough said the confidence she gained from the journalism room is a long-term asset.
"I don't really have anything from college that I feel that way about, nothing that I've thought 'This is going to be a part of what I do forever' and I definitely feel that way about the journalism room and The Thunderbeat," Stough said.
Stough also said that everyone should at least give high school journalism a solid try.
"You're learning how to interview and how to listen," Stough said. "You're learning how to be unbiased in the news that you're consuming and I think that's so important, especially in today's world. I don't think any second spent in the journalism room is time wasted."